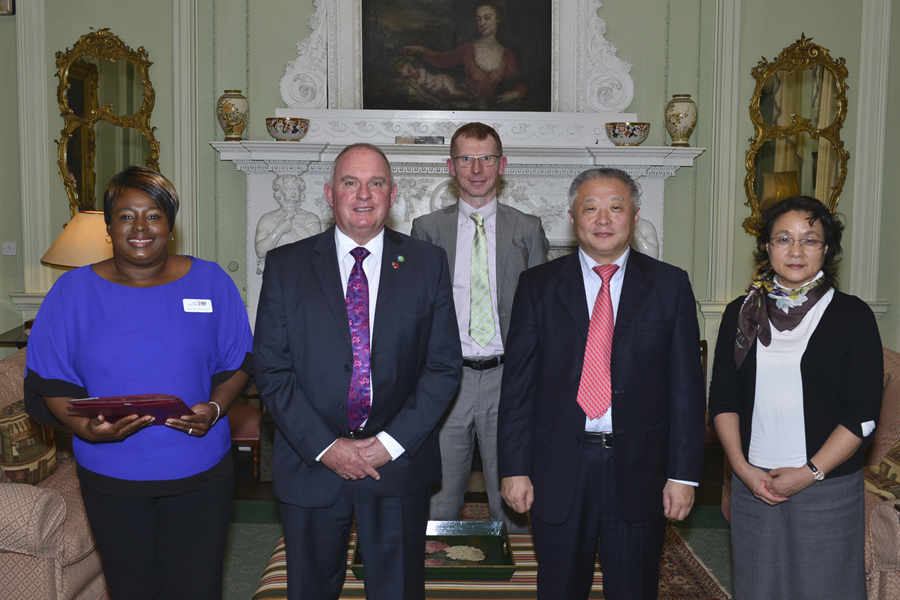 A delegation of businessmen from a Chinese manufacturing colossus took part in a trade visit to Shropshire as part of a growing relationship with a county business.
Bridgnorth-based high-tech castings specialist Grainger & Worrall has been working with Norinco for the last two years to make a specialist part to go into a new commercial vehicle.
The Beijing-based company's name is abbreviated from The China North Industries Corporation, and which is set to achieve turnover of 1 trillion Chinese yuan (£100 billion) within the next five years.
Now senior representatives of the business, including Wang Yulin president of Norinco's Development Academy of Machinery Equipment, and Xiaoqing Cheng, the general legal advisor for China North Vehicle Research Institute, have visited Shropshire to look at further opportunities for collaboration.
Charlie Bamber, Grainger & Worrall's business development manager for Asia, said: "They are a large industrial company with 300,000 employees, and that covers planes, trains and automobiles.
"The opportunities for UK companies with them are very large, and with that UKTI was kind enough to help arrange an inward trade meeting with them.
"Through the course of the week they met with eight UK companies. We have had the chance to manufacture prototype castings for them."
Mr Bamber added: "The opportunities for us could stretch as far as a joint venture – there's no limit to the opportunity.
"It's a large, industrial organisation with very diverse needs, and this gives us the chance to extend our expertise further by supplying them.
"I have spent three months of the last two years in the Chinese market having meetings with blue chip companies, and this particular blue chip company has followed us home to ask the wider question of what we can do for them.
"Part of any joint venture could exist in Shropshire, and if it goes to a mass production entity of any sort, then that can't be in Shropshire, but parts leading up to it can. It's clearly an opportunity for the county."
Grainger & Worrall has been in the process of growing its own operation, and has doubled its turnover to £40 million and its staff to 500 in the last five years.
The company won the top prize at Shropshire Chamber of Commerce's Business Awards this year, and also took home the biggest accolade at another ceremony run by the Castings Industry Federation.
Based in Bridgnorth but with another factory in Telford, the company is moving towards growing its turnover to £70 million.
A dinner was held for the Chinese delegation in Bridgnorth on Wednesday.
Shernel Stevenson, or UKTI Shropshire, added: "Opportunities for other UK companies are potentially very large and the group asked G&W to make introductions during their visit to complementary companies to discuss supplying into the Norinco Group.
"Working closely with the Grainger & Worrall and UK Trade & Investment – Shropshire International Trade Team arranged a two-day event and networking dinner offering UK companies the opportunity to meet face to face with the Norinco Group."