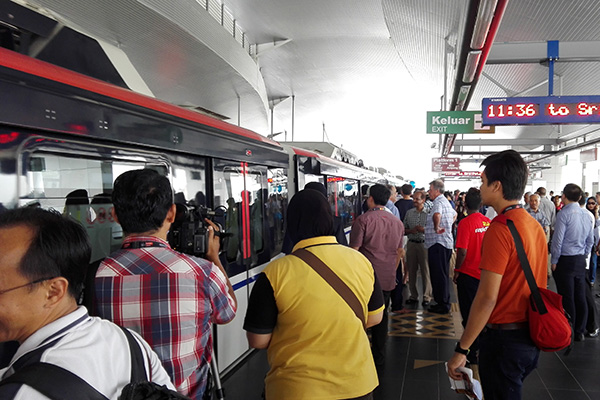 CRRC ZELC is expanding in Southeast Asia after setting up a manufacturing hub in Malaysia
A major Chinese railway company is on track with its expansion plans in Southeast Asia after setting up a manufacturing and maintenance center in Malaysia.
CRRC Zhuzhou Electric Locomotive Co, which is part of the country's largest train manufacturer China Railway Rolling Stock Corp, has been in the export business for 18 years.
In July, CRRC ZELC opened a $131 million plant in Mal-aysia's Perak state, which is managed by CRRC (Malaysia) Railway Vehicles Co and will act as the company's gateway to the rest of the ASEAN region.
Two years earlier, the firm had secured orders to build 10 high-speed electric trains and 20 light railway engines, or LRVs, in the country.
"Because most Southeast Asian nations have just begun to build new railway lines or bought new trains, they are keen to acquire technological support from China to assist in the daily operations, maintenance, staff training and other services," Zhou Qinghe, president of CRRC ZELC, said.
The ASEAN plant will be involved in production, assembly, testing, maintenance and refurbishment, with an annual production capacity of 100 electric trains and LRVs.
Up to 800 jobs will be created at the facility and annual sales revenue is estimated to be 590 million yuan ($93 million).
But then this is just the latest move in CRRC ZELC's Southeast Asia journey in Malaysia, which started in 2010. So far, the company has supplied 38 electric trains to Kuala Lumpur, the country's capital.
"We went through a long process of getting to know each other," Zhou said. "At the end of 2009, Malaysian officials visited CRRC ZELC and saw the company had strong research and development services.
"After that, Malaysia's Ministry of Transportation awarded an inter-city trains contract worth nearly 4 billion yuan in 2010. All the hard work had finally paid off," Zhou added.
During the past five years, CRRC ZELC has put together deals worth 8 billion yuan for rail equipment and service projects in Malaysia.
Part of this involves supplying engines for the new 200-kilometer high-speed rail link between Kuala Lumpur and the northern city of Ipoh.
The contracts were signed in December and the line will run some of the world's fastest bullet trains in the world.
High-speed engines will also be supplied for the 900 km rail link being planned between Johor Bahru on the southern tip of the country and Padang Besar on the border of Thailand.
"After the first batch of 10 trains produced in China are delivered, engines of the same type will then be manufactured at our ASEAN base in Malaysia," Zhou said.
CRRC ZELC has three subsidiaries in the country, CRRC Kuala Lumpur Sdn Bhd, CRRC Kuala Lumpur Maintenance Co and CRRC (Malaysia) Railway Vehicles Co, which employ 320 workers. Up to 90 percent of the employees are Malaysians.
With a market share of 85 per cent, the company has become the largest rail equipment supplier in the country with close links to other members of the Association of Southeast Asian Nations.
But Malaysia is not the only overseas market. CRRC ZELC has also invested and built two manufacturing and maintenance plants in Turkey and South Africa during the past two years.
In 2014, it received eight major export orders worth a total value of 19 billion yuan. Still, foreign sales accounted for just 5 percent of its annual operating revenue.
Hopefully, that figure will jump to more than 30 percent this year although further financial details have yet to be released by the company.
In the ASEAN region, CRRC ZELC's main markets are Singapore, Indonesia, Thailand and naturally Malaysia, with rising demand for electric locomotives and mass transit trains for city and suburban lines.
"Even though a lot of money can be made from selling trains, providing maintenance services can also be very profitable," Luo Chongfu, vice-general manager at the company, said, adding that engines need to be sent for large-scale maintenance service after a year.
Competition in the sector, though, is fierce. Foreign rivals such as Siemens, of Germany, Alstom Group, of France, and Bombardier Inc, of Canada, have global service networks.
This in turn boosts their revenue figures in major overseas markets in Asia, the Middle East and Europe.
By 2016, the world rail and transit industry will be worth $240 billion, with maintenance services accounting for half that figure, according to a study by Paris-based International Union of Railways in July.
"The tactic of establishing an ASEAN rail center in Malaysia is based on our market share in the country and its geographical location," Luo said. "The relatively developed infrastructure (in China) could help us further develop neighboring markets such as Indonesia, Thailand and the Philippines."
CRRC ZELC has already supplied 18 metro engineering maintenance trains to Singapore and they are now being used on the city-state's urban rail network.
"The China-ASEAN economies will count on enhanced regional cooperation, especially in rail transportation, to stimulate trade and attract investment while improving regional economic integration," Zhao Jian, a professor of rail transportation at Beijing Jiaotong University, said.
Indeed, improving rail infrastructure comes at a crucial time with developed countries relying on emerging markets to revive the global economy.
"Ongoing plans by Singapore, Indonesia and Malaysia to build a high-speed rail link will further fuel the hope that Southeast Asia could one day have a similar European-style train system," Zhao, at CRRC ZELC, said.
With his eyes firmly fixed on future orders, Zhou is predicting that ASEAN countries will need 1,100 new carriages and refurbishment for another 700 during the next five years.
"Our new ASEAN rail base in Malaysia will give us an advantage to tap further into this lucrative market," he said.