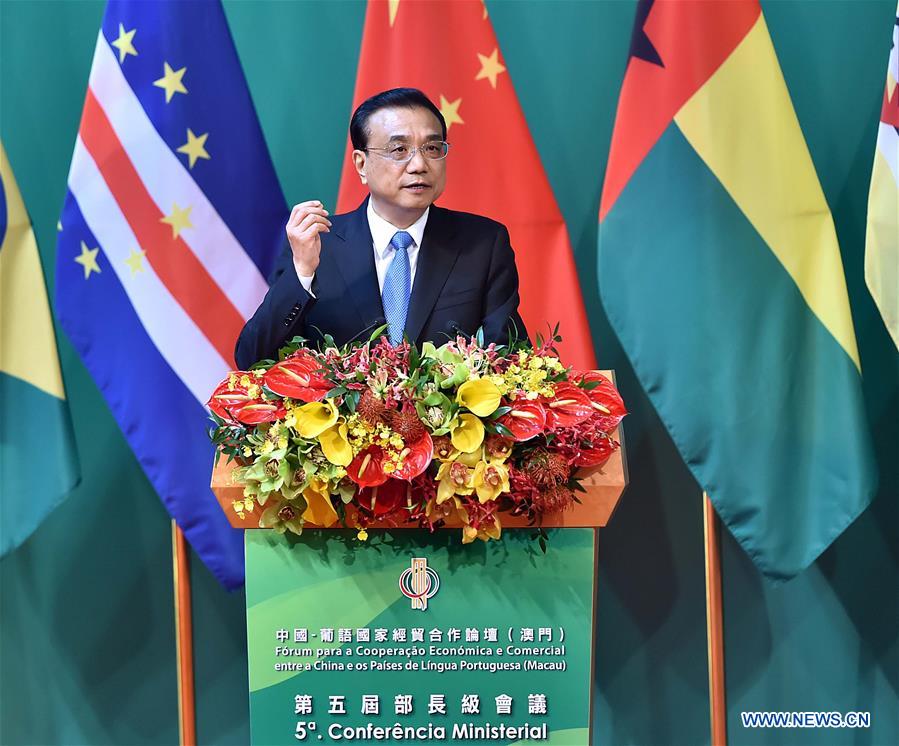 Chinese Premier Li Keqiang said Tuesday that China hopes to build more substantial economic and trade ties, as well as developing a long-term stable and sound partnership with Portuguese-speaking countries (PSCs).
China and PSCs account for 17 percent of the global economy and 22 percent of the world population, and their common interests and need of mutual support are increasing, Li said at the opening of the fifth Ministerial Conference of the Forum for Economic and Trade Cooperation between China and PSCs.
The Belt and Road Initiative accords with the development plans of many PSCs, Li said in a keynote speech, noting that both China and PSCs are located along major international shipping routes.
Bilateral relations between China and PSCs are at their best period in history, said Li, pointing to the fact that trade between the two sides amounted to almost 100 billion U.S. dollars last year.
Companies from PSCs have set up nearly 1,000 enterprises in China. China's outstanding investment in PSCs amounts to almost 50 billion dollars, and China's contracted projects in PSCs are valued more than 90 billion dollars.
Li said both sides should strengthen industrial cooperation. During the forum, memorandums on industrial cooperation will be signed, he said.
China is willing to make full use of the financing platforms such as the Silk Road Fund and the China-PSCs Cooperation and Development Fund to carry out a group of important projects as soon as possible, Li said.
Both sides should also enhance personnel exchanges, said the premier, adding that China plans to grant more members of the forum Approved Destinations Status for outbound Chinese tourist groups.
Li called on both sides to make good use of Macao as a service platform for strengthening cooperation in various fields.
The Forum for Economic and Trade Cooperation between China and PSCs was launched in Macao in 2003, with the participation of seven PSCs, namely Angola, Brazil, Cape Verde, Guinea Bissau, Mozambique, Portugal and Timor-Leste.