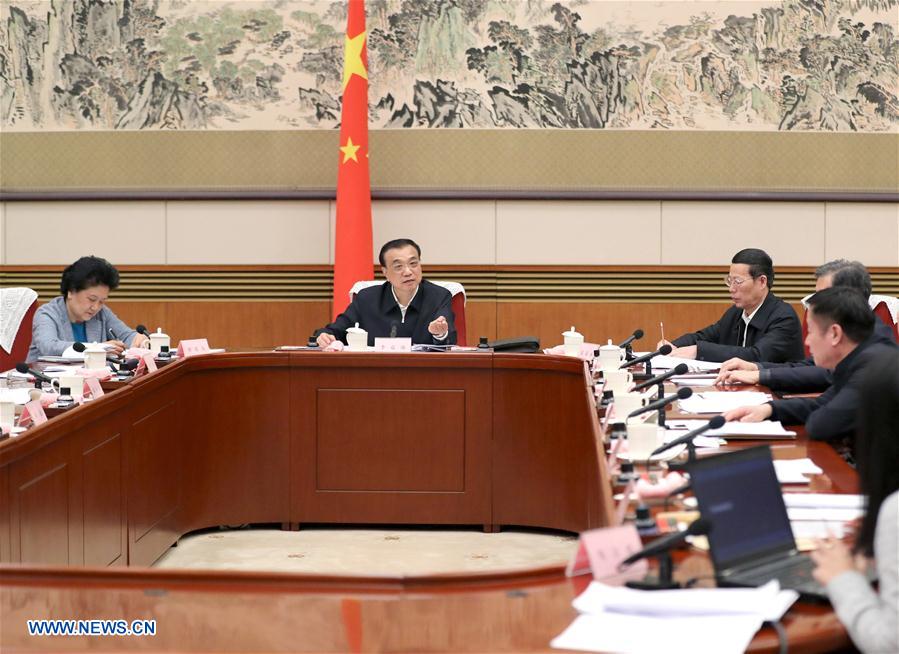 Chinese Premier Li Keqiang has held a symposium to solicit opinions from experts and entrepreneurs on the draft of an annual government work report.
Experts and entrepreneurs shared their views and made suggestions on the government's work at the symposium held Friday, according to a statement issued Sunday.
Vice Premier Zhang Gaoli attended the symposium.
The participants offered suggestions on a wide range of areas, including deepened reforms of the financial and taxation systems, boosting employment, and defusing financial risks, it said.
They also proposed creating a sound environment for the development of the real economy, speeding up supply-side structural reform in the agricultural sector, supporting technology for strategic emerging industries, and encouraging scientific and technological innovation.
Li exchanged ideas with the group and tallied last year's achievements in boosting employment, upgrading the economic structure and improving people's livelihood.
The premier said China's economy will face greater pressure and difficulties this year, citing the uncertainties and complexities of the international political structure and challenges to economic rules.
He added that the country will keep its economy running smoothly while continuously improving the quality and efficiency of economic growth.
The country will adhere to seeking progress while maintaining stability in general, implement the five development concepts of innovation, coordination, green development, opening up and sharing, and promote supply-side structural reform, the premier said.
Li called for efforts to improve prediction and precision in macro economic control and take effective measures to tackle deep-seated issues and potential risks.
The economic performance should be kept within a reasonable range and the good momentum of improving performance amid stability should be consolidated, he said.
Li said the government will create a sound environment for enterprises, comprehensively deepen reform and continue to streamline administrative approvals and delegate power to lower levels.
The premier said the government will also hold down spending to facilitate tax cuts for enterprises.
The government will close down out-dated production facilities, employ more positive employment policies and support new industries and business modes that are capable of boosting employment, Li said, adding that the government will also push forward the upgrade of traditional industries and accelerate the development of advanced manufacturing.
Li also urged efforts to improve people's livelihood and reduce smoggy days.