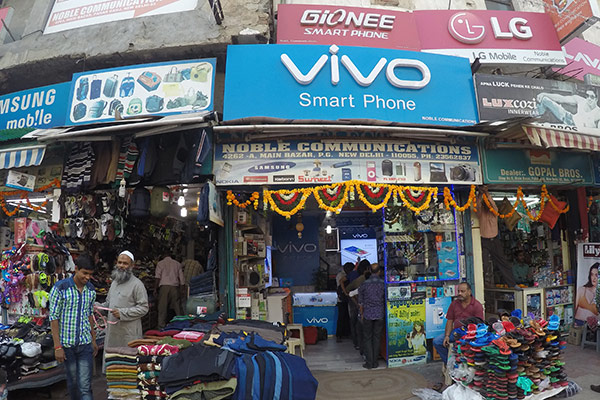 Diwali spells fortune for brisk sales of smartphones and memory cards made by China-based firms.
Doves in Delhi had an awful week during Diwali, India's biggest festival that lasted five days in mid-November.
The nerve-cracking sounds of firecrackers, sometimes as loud as hand grenades, sent them seeking cover all night long in the city's mingled narrow alleys that date back to the pre-colonial age.
But for Sadiq Kumar, who runs a 10-square-meter electronics store in a 300-year-old bazaar in the densely popularized Paharganj area of New Delhi, selling smartphones, power banks and memory cards from China, the "festival of brightness" spelled fortune.
"The business has been very good these days," said Kumar, standing behind a glass counter full of mobile phones made in China. His booth is sandwiched in a store selling knock-off Adidas bags and a shop vending 50-rupee ($0.75) slippers.
Inside the booth, where nothing was screening the noise on the street and intermittent smell of firecrackers, Kumar, in his 40s, reached out to a glass display cabinet behind him and put a white smartphone case on the counter.
"This is our star product and it is as good as the iPhone 6," he said, pointing at a sliver vivo logo on the case.
The device Kumar was referring to was a vivo Y27L, a 4.7-inch (119 millimeters) screen Android phone made by Guangdong-based vivo Communication Technology Co Ltd.
The handset, selling at 13,980 rupees at Kumar's store, is compatible with the fourth-generation communications network, which remains a new and expensive service for many people in India.
Kumar introduces vivo smartphones every time to buyers who are looking for a 4G device. But if the buyers think twice about taking the iPhone-quality device, the store also offers made-in-China smartphones as low as 4,000 rupees.
Chinese smartphone vendors, including vivo, Lenovo Group Ltd, Xiaomi Corp, Meizu and many others, are aggressively expanding in India this year as growth in their home market slows.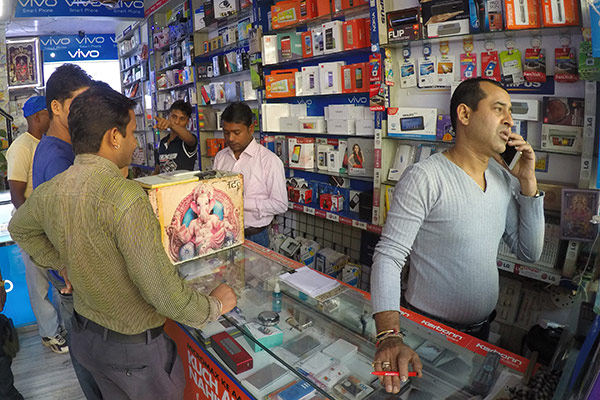 "Chinese brands see the Indian market as the biggest gold mine after China," said TZ Wong, a Singapore-based smartphone analyst at research company Canalys.
"The two markets are very similar for the vendors. The only difference was India was a few quarters behind China in terms of demand."
India's emerging appetite for smartphones is spurred by the country's gigantic population of 1-billion-plus, second only to China. Increasing middle-class incomes have also pushed online shopping to the forefront.
This is nearly a rerun of China's situation five years ago when the trend of getting touch-screen phones started to kick off.
A total of 28.3 million smartphones were shipped to India in the third quarter, a 21.4 percent surge compared to a year ago, according to IDC, another consultancy.
Large-screen smartphones priced around 10,000 rupees are the best-selling devices in India, it added. The skill sets of Chinese manufacturers and local buying habits fit well.
Quickly growing startups, with vivo and Xiaomi leading the charge, are already busy in India, while traditional electronics giants such as Lenovo and ZTE Corp may use a different strategy.
A few kilometers south to Kumar's bazar shop, middle-class shoppers are buying Sony cameras and Hewlett-Packard laptops at an electronics store in Connaught Place, a major commerce and financial center in New Delhi.
Lenovo devices are the only handset bearing a Chinese logo waiting for buyers at the Croma outlet, an electronics chain store under Indian multinational conglomerate Tata Group.
Samsung Electronics Co's Galaxy series, HTC Corp's 60,000-rupee pamphlets and Microsoft Corp's Windows phones with colorful cases are popular products at thousands of Croma stores in New Delhi, Mumbai, Goa, Bangalore and many smaller cities.
Chinese brands are also rare in Mobiliti World, another brick-and-mortar consumer electronics store chain.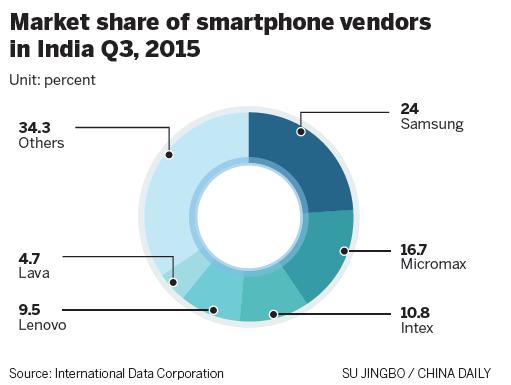 Lenovo said it will expand its product roll out at Croma in 2016. The company will be directly taking on Samsung and other market leaders to become a top tree smartphone vendor in the country.
But Beijing-based Xiaomi has avoided the brick-and-mortar route, relying instead on the online e-commerce retailer Flipkart.com. Xiaomi's "everything goes online" strategy saves costs with the large rural population also potential buyers.
Karthik J, senior market analyst at IDC, said online sales are impressive.
"Online retailers such as Flipkart, Snapdeal, and Amazon are driving shipments of the Chinese vendors, who have been aggressively trying to capture the 4G smartphone market in India," Karthik said.
In May, Xiaomi, partnering with Taiwan-based contract manufacturer Foxconn, opened its first overseas smartphone manufacturing plant near the southern city of Sri City in Andhra Pradesh.
Lenovo quickly followed, kicking off handset productions in the port city of Chennai.
In October, another red hot maker, OnePlus, also opened an assembly facility in India.
"All our handsets are made in China and then shipped to India. Making products locally will help reach our Indian customers faster and more effective," Pete Lau, chief executive of the Shenzhen-based company said.
A "make in India" campaign by the government has also helped spur companies to take advantage of potential tax breaks and incentives.
Lau said the company is planning to sell 1 million smartphones in India by the end of this year.
"Making devices in India will help the vendors lower expenses as labor cost in Chinese factories continue to rise," Wong from Canalys said.