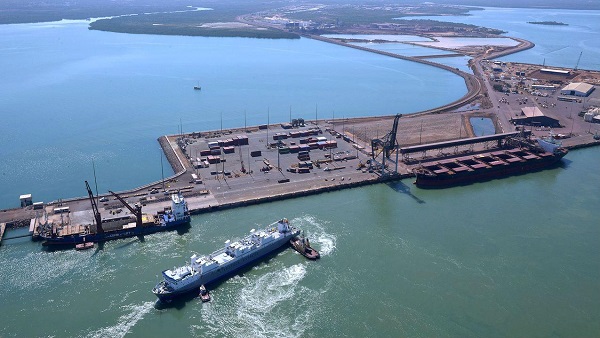 The Chinese company which purchased the 99-year leasing right for the Port of Darwin announced on Tuesday a $25 million expansion of its operations, just months after taking control of the port in Australia's Northern Territory.
Landbridge Group, owned by Chinese billionaire Ye Cheng, said it would be expanding its operation in Darwin, with a one-km extension of its quay line among the planned upgrades.
The company won control of the port for 99 years under a $506 million lease agreement with the NT Government in October 2015. The deal, underlining growing China-Australia economic ties, has come under the scanner of Washington. US President Barack Obama discussed the Darwin port issue with Australian Prime Minister Malcolm Turnbull during their first meeting last year.
The multi-million dollar development plans unveiled on Tuesday would "expand cruise ship facilities", as well as "meet future increases in cargo volumes in the areas of dry bulk exports, liquid bulk imports, live cattle and container and general cargo throughput," the company said in a statement on Tuesday.
Darwin Port chief executive officer Terry O'Connor said the plan would eventually "quadruple the size of the existing container yard."
The US State Department had earlier this year "secretly polled nationwide opinion" of the Northern Territory's deal to lease Darwin port to the Chinese firm. Washington, in its many objections to the China-Australia deal, has also listed "security concerns".
Earlier last year, a Defence department secretary Dennis Richardson told an Australian Senate committee that talk of China's Landbridge group becoming a security risk is 'alarmist nonsense'.
Meanwhile on Tuesday, the Northern Territory's Chief Minister Adam Giles told the Australian Broadcasting Corporation (ABC) that he welcomed the news of Landbridge's plan as it would increase capacity for extra cruise and cargo routes coming into Australia's far north.
"It is in line with what we wanted to occur with an investor for the port. One of the reasons we pay a lot for goods and services that come over our port, is that our port is not big enough," Giles said.
Giles said Landbridge's plan would also provide a major boost for tourism in the region, allowing the government to show off little-known attractions such as the Kakadu national park.
"To expand the cruise ship terminal to be able to take two cruise ships… to see a new terminal itself, the dredging that'll go on, these are big investments in tourism, which government could never, ever afford to do," Giles said.
"As a private investor they are able to apply for environmental approvals just like anybody else in the territory. But if they've got major financial commitments that they want to see expansion, to me that's fantastic, it's all about jobs and growth," he added.
Peter Jennings, the executive director of the Australian Strategic Policy Institute (Aspi), had said last year that there is "deep Chinese driving interest in terms of understanding how western military forces operate".
"Right down to the fine details in terms of how a ship operates, how it is loaded and unloaded, the types of signals a ship will emit through a variety of sensors and systems, the noise it makes as it moves through the water with its propellers," he alleged.
Australian Defence department secretary Richardson said these charges were "simply absurd".
"No Australian or American naval vessel I'm aware of enters a commercial port, whether it be New York, Sydney, Shanghai, or Darwin, without turning off key emitters. The notion that you enter a commercial port – regardless of the operator – and you leave yourself exposed to possible collection is absurd," Richardson said.
Earlier in March, Australian Prime Minister Malcolm Turnbull responding to the secret US poll, said the government would not be taking the "text message opinion poll" seriously.
"The security issues relating to that port sale were thoroughly investigated in Australia's national interest by the relevant security agencies. That's how we determine security issues; not, with all due respect, by text message opinion polls," Turnbull said.