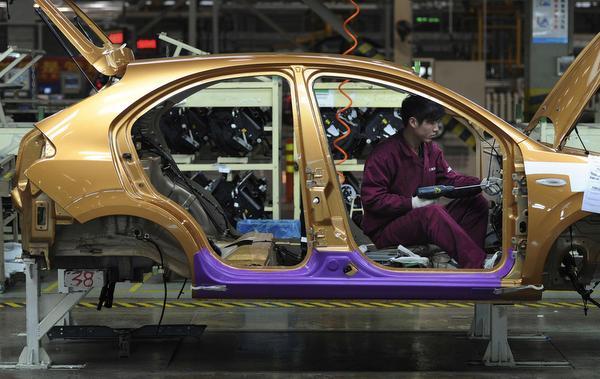 Chinese automakers have been interested in entering India for some years now.
Among the high profile ones were SAIC Motor Corporation which, in 2009, entered into a 50:50 joint venture with General Motors to produce a range of cars and pick-ups. Beiqi Foton Motor was the next to follow with plans to set up a facility for trucks and buses at Chakan near Pune. Zotye Auto, meanwhile, began supplying kits to Premier for assembly of the Rio compact SUV here.
None of these really took off on the expected lines as GM subsequently bought out a large chunk of SAIC's stake and pretty much shelved the plans for light commercial vehicles. Likewise, there has been no news on Foton's progress while the Rio has not quite set sales charts afire.
However, things have changed in recent months with Chinese auto companies showing renewed interest in the Indian market. Changan Automobile has been in the news over the last week with plans to set up a plant in either Tamil Nadu or neighbouring Andhra Pradesh.
SAIC Motor was tipped to buy out GM's older facility in Halol, Gujarat but it looks as if the deal is not happening. The Chinese carmaker is now believed to be on the prowl for a new plant site. It was precisely a year ago when GM said it would invest $5 billion to develop a new range of Chevrolet vehicles along with SAIC. The markets on the duo's radar were India, China, Brazil and Mexico.
Reports have also been doing the rounds that Great Wall Motor Company is as keen on making an India entry. The move makes sense as the company specialises in SUVs, a product segment that has been growing the fastest in India.
Why are these Chinese car brands so keen on setting up shop in this part of the world when they are doing rather well back home in the world's largest automobile market? For one thing, they are fiercely ambitious about establishing their brands overseas and driving home the point that China is second to none in cars.
Two, their home market is not in the best of shape right now with growth expected to be about five per cent this year. On the face of it, this is not bad but relatively lacklustre compared to the momentum seen in earlier years. In the process, total sales in China for 2016 are projected to be around 25 million cars.
Three, India is one of the fastest growing markets and tipped to be the third largest producer of cars by the end of this decade. A presence here is obviously a no-brainer especially when it means easier access to other growth regions like Indonesia, Malaysia, Thailand, Taiwan and the Philippines.
These Chinese automakers will also leverage their strengths in ruthless cost-cutting to offer affordable cars in this price-sensitive market. Yet, they may have to reckon with the commonly held perception of low quality seen in other Chinese brands like electrical products, toys and so on.
It also remains to be seen how automakers from China take on well established players like Suzuki and Hyundai apart from Honda, Toyota, Mahindras and Tatas. The value-for-money quotient in India effectively boils down to offering a host of features at a competitive price tag something which Renault has recently demonstrated with its Kwid compact.
Yet, the Chinese cannot be taken lightly as evident from the fact that they are quick learners keen on projecting themselves as quality players. Once Changan, SAIC, Great Wall and Foton firm up their India blueprints, there will be some interesting dynamics at play in the auto space after 2020.