BEIJING, Nov. 10 (Xinhua) — Government support helped China's electric car production in October jump eightfold year on year to 50,700 vehicles, the Ministry of Industry and Information Technology said on Tuesday.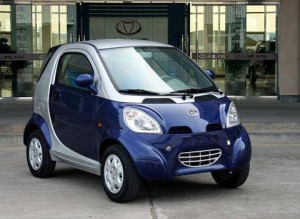 Output of pure electric and plug-in hybrid passenger vehicles in October 2015 was 850 percent and 200 percent higher, respectively, than in October 2014, said the ministry.
In the first 10 months, Chinese carmakers produced 206,900 new energy vehicles, three times as many as they did in the same period last year.
Intense promotion by the government has brought more and more new energy vehicles onto China's roads, saving energy and combating pollution.
Measures including tax exemptions, subsidies and requirements for government bodies to buy green cars are in place.
In March, the Ministry of Transport set a target of 300,000 new energy commercial vehicles on China's roads by 2020: 200,000 new energy buses and 100,000 new energy taxis and delivery vehicles.
China's cabinet, the State Council, also announced plans in early October to build a nationwide charging-station network that will fulfil the power demands of five million electric vehicles by 2020.