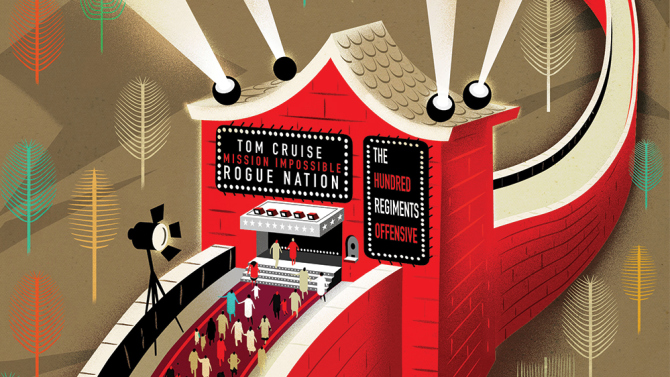 China's box office continues to surge, despite two months of whipsaw stock market action and a currency devaluation that has put the global financial community on high alert.
In recent weeks, "Terminator Genisys" and "Mission: Impossible — Rogue Nation" have enjoyed two of the five biggest openings ever for U.S. films, threatening records despite problematic release dates and fierce competition from local productions. Their success dispels some fears that larger economic troubles in China will hobble the fastest-growing market for Hollywood movies.
"This is an avid moviegoing society," says Eric Handler, an analyst with MKM Partners. "If you look at other countries, even developing ones, at times of economic recession, people go to the movies more."
China's economy may be shaky, but its enthusiasm for movies remains undiminished. Its theatrical box office this year is up a massive 49% in the first eight months, already exceeding the 2014 total. Analysts believe that ticket sales could hit $6.5 billion, up from last year's $4.9 billion. But it's not just a need for escapism that's keeping ticket sales healthy. Demographics are also at play.
"The marketplace is driven by a younger generation in China," says Rob Moore, vice chairman of Paramount Pictures. "In the U.S., moviegoing is very much for people over the age of 40. In China, it's people between the ages of 13 and 35. They're young professionals or students, and they're not that affected by what's going on with the stock market."
That's not to say U.S. studios don't face headwinds. In fact, they may soon be victims of their own success. Hollywood executives in China have been quietly warned not to expect any more favors this year after "Furious 7" embarrassed Chinese authorities by obliterating box office records in April. It scored an unheard-of $391 million, beating even the picture's North American haul ($351 million).
The success of that film, coupled with the results for "Avengers: Age of Ultron" ($240 million in China) and "Jurassic World" ($228 million), skewed the first half year's theatrical market share in the nation in favor of American movies. China's cinema regulators will now do everything in their power to make sure the balance shifts back to Chinese-made films.
To that end, regulators in the country have been playing hardball. They enforced a two-month blackout through July and August, permitting no new Hollywood films to enter the country. And they will likely spend the rest of this year squeezing the remaining U.S. studio titles into release windows that are narrower and shorter than optimal. There's a reason "Mission: Impossible — Rogue Nation" opened on a Tuesday, and "Terminator Genisys" kicked off on a Sunday. And a move to position "Minions" within two days of "Pixels" seems to have been jury-rigged to ensure the two family-friendly films cannibalize each other.
The country loosely enforces a quota of 34 foreign films a year, and 20 of those slots already have been taken, which will prompt a mad scramble to fill the remaining positions. While "Ant-Man," "Inside Out," "Pan," "The Martian," and "Everest" all are likely to get release dates, officials are not expected to let "Crimson Peak," "Fantastic Four" and "The Man From U.N.C.L.E." enter the market. And Hollywood essentially will be locked out of December as another pre-Christmas blackout is enforced. If the overall box office skews in favor of foreign imports, China could flex its muscle by holding back highly anticipated films like the James Bond sequel "Spectre" and "The Hunger Games: Mockingjay — Part 2" until January, where they would have to contend with the Chinese debut of "Star Wars: Episode VII — The Force Awakens."
That's not the only source of tension. Last week, the heads of Chinese film companies Huayi Bros. and Bona hinted that creative accounting was behind the massive ticket sales of Chinese propaganda film "The Hundred Regiments Offensive"; word is that they were allowed to keep the full proceeds of the film's first-week takings, without having to pay rentals.
"This happens every time they roll out one of these big propaganda movies," notes Robert Cain, a partner at Pacific Bridge Pictures. "They need to save face because nobody wants to see them, so they prop the numbers up."
But the string-pulling may not be necessary for much longer. China's private sector studios are now regularly putting up budgets of $20 million to $50 million to make comedies, horror films and romances with mass appeal. Others are inspired by games or online source material, and are aimed at starting franchises that in turn can promote merchandising lines and theme-park rides. If that sounds familiar to the media conglomerates that control the U.S. entertainment business, it should; the two industries are clearly moving closer together.
"Monster Hunt," an animation-live action hybrid that has grossed $380 million at the local box office, was directed by Raman Hui, the Hong Kong-born creator of "Shrek," and a 20-year veteran of PDI and DreamWorks Animation. The film's digital effects came from ILM's China affiliate Base FX. "Dragon Blade," a $100 million-grossing hit from early this year, brought in two Hollywood stars (Adrien Brody and John Cusack) in secondary roles opposite Jackie Chan.
That puts Hollywood's and China's fortunes on parallel tracks. It also makes it harder for regulators to separate the home team from the visitors.