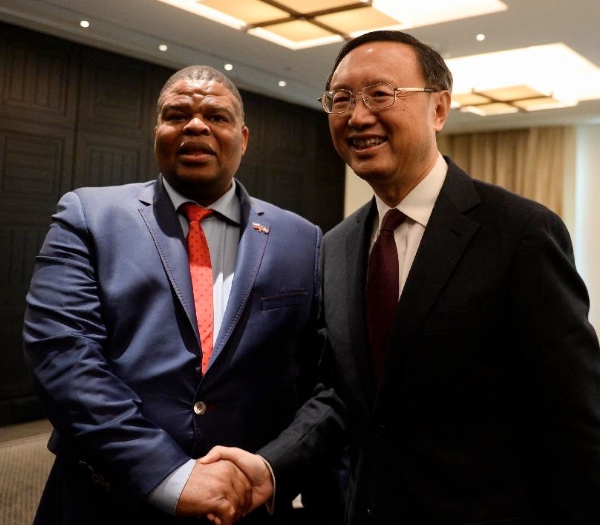 Chinese State Councilor and Beijing's top diplomat Yang Jiechi will hold talks with the South African government during an official visit to the country from October 9 to 11.
Yang is visiting at the invitation of the government of South Africa, Foreign Ministry spokesperson Hua Chunying announced on Wednesday.
China has strong trading ties with the youngest BRICS member, South Africa.
Yang, who is in charge of Chinese foreign policy, will discuss bilateral ties with South African President Jacob Zuma as well as International Relations and Cooperation Minister Maite Nkoana-Mashabane.
China is South Africa's biggest trading partner with exports and imports between the two nations amounting to $61.6 billion last year, exceeding trade with the European Union, which stood at $55.2 billion, according to data from the International Monetary Fund.
A slowdown in Chinese growth is expected to curb global demand for commodities such as copper, coal and iron ore. South Africa is the world's largest producer of platinum and also exports gold, coal, iron ore and chrome.
South Africa's economy contracted by an annualized 1.3 per cent in the second quarter as power shortages curbed output.
South Africa is hosting the regional center for the New Development Bank launched by the BRICS.
Pretoria has also joined the Chinese-led Asian Infrastructure Investment Bank (AIIB).
Beijing has, earlier this year, vowed to boost aid to help the South African industrialization drive.
"China will continue to play a pivotal role in South Africa's re-industrialization and developmental agenda going forward," Nkoana-Mashabane said in April after her meeting with Chinese Foreign Minister Wang Yi.
The "two Governments are working very hard together to address the negative trade deficit and to ultimately attain a more equitable and mutual trade balance," she added.