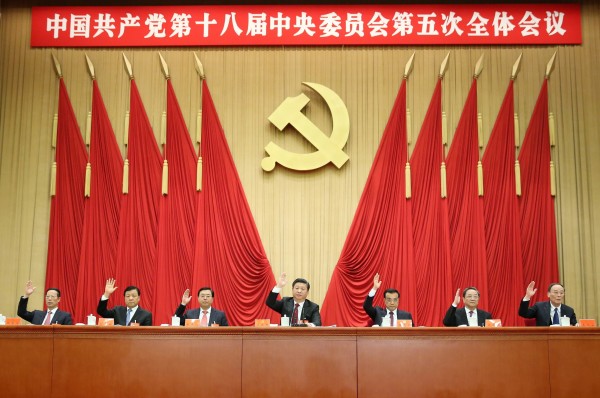 The Fifth annual Plenum meeting of the Central Committee of the Communist Party of China (CPC) ended in Beijing this week amid increasing focus on how to reform the country's juggernaut economy as major industrialized nations face global recession and stagnation.
According to local official media quoting a CPC comminque, China will target medium to high economic growth to 2020, seeking to double its GDP and per-capita income during that time.
Although full details of the 2016-2020 Plan won't be released until after legislative approval by the National People's Congress early next year, the health of the world economy and China's increasing role in keeping the global dynamo churning likely figured prominently as the Committee's 205 members met to formulate the 13th Five-Year Plan.
The Plan will outline national priorities, set economic and social development targets, and produce landmark political reforms that will greatly impact the world economy.
Last summer's government intervention – devaluing the yuan currency by some 3 per cent, and considering using government coffers to replenish capital for investment projects – signals that the Central Committee is likely to seek ways to balance micro and macroeconomic restructuring as the annual growth rate appears to be below 7 per cent.
Chinese leaders have affirmed earlier statements to move the economy into one that is consumption based (moving away from heavy reliance on exports) and market-driven.
By setting this goal, Chinese authorities will impose far less regulation on pricing products and services by 2020.
The Five-Year Plan, the communique says, will empower local authorities in a bid to boost entrepreneurship and domestic innovation.
In order to meet as yet undisclosed consumption targets, the CPC will push to fashion an economic strategy that it says is based on balanced, inclusive and sustainable economic development.
The CPC communique indicates that this will be achieved by looking at China's existing demographic realities. The Five-Year Plan will aim to significantly reduce poverty by 2020.
But one of the most significant and far-reaching decisions is the rescinding of the 30-year-old one-child policy and allow some 90 million eligible couples to have up to two children.
The CPC sees this as a socio-economic imperative because of its extensive ageing population and as a means to increase domestic consumption.
In the meantime, the government will introduce reforms to its health care sector in a bid to guarantee coverage for all its citizens.