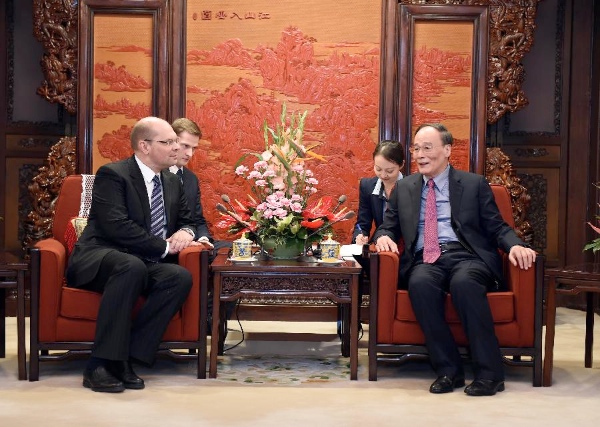 China will ally with Russia in its anti-corruption drive, said a top official on Wednesday.
China and Russia will aim to unwind a culture of bribery and graft that has jeopardized economic growth and led to a growing divide between the rich and the poor of the countries.
"China is ready to strengthen anti-corruption cooperation with Russia," China's anti-corruption chief Wang Qishan was quoted by state news agency Xinhua on Wednesday.
Wang, head of the ruling Communist Party of China (CPC) Central Commission for Discipline Inspection held talks with Oleg Plokhoi, head of the anti-corruption department of Russia's presidential executive office in Beijing on Wednesday.
The Chinese government's campaign against corruption is growing into one of the broadest in China's modern history, snaring thousands of businessmen and government officials, including the country's former security chief.
Wang said strengthening "self-supervision" is a must for the Communist Party to "address various risks and challenges while remaining in power for the long run".
Plokhoi in his meeting with Wang on Wednesday said "Russia is ready to exchange experience and deepen cooperation with China on the fight against corruption".
Russian President Vladimir Putin on Wednesday fired the governor of a far-flung region who has been arrested on charges of corruption. Russia is high on the list of the world's most corrupt countries but very few high-ranking officials get indicted or face prison time.
Chinese President Xi, meanwhile, has vowed to maintain "high pressure" and "zero tolerance" on graft this year, as corruption "has not vanished" and "temptations still remain," in a speech at a plenary session of the Communist Party's top disciplinary agency in Beijing in January.