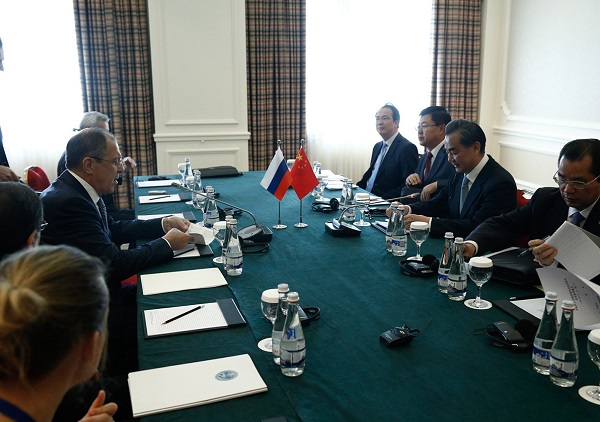 Chinese Foreign Minister Wang Yi and his Russian counterpart Sergei Lavrov on Tuesday highlighted the strength of their bilateral ties and common positions on international issues in Tashkent, Uzbekistan.
The two top diplomats held talks on the sidelines of the China-Russia-led Shanghai Cooperation Organization (SCO) Council of Foreign Ministers meet.
Officials of the two countries are preparing for the upcoming China visit by Russian President Vladimir Putin.
Moscow views "the development of our cooperation with China as a key foreign policy priority", Lavrov told Wang.
"Our cooperation, relations and partnership and also the coordination of our actions on the international stage are becoming an increasing factor in global politics," Lavrov asserted.
A Russian Foreign Ministry statement said "the ministers discussed current issues on the bilateral and international agendas, including the cooperation of the two countries within SCO and the situation in the Northeast Asia."
Chinese Foreign Minister Wang echoed Lavrov on the "close strategic coordination" between the two allies on global and regional issues.
"China and Russia should together guard basic international rules so as to promote the political settlement of regional and international issues," Wang said in Tashkent.
Both Ministers also stressed on moving ahead with "coordinating Eurasian economic integration with China's Silk Road Economic Belt initiative". Lavrov described this new project as "one more area for promising cooperation between the two countries".
China's President Xi Jinping has said he hoped its annual trade with the countries involved in Beijing's plan to create a modern Silk Road would surpass $2.5 trillion in a decade.
Under the so-called "One Belt, One Road" initiative, China aims to create a modern Silk Road Economic Belt and a 21st Century Maritime Silk Road to boost trade and extend its global influence.
The Russian President and Chinese leader Xi Jinping signed a decree last year on tying the development of the Russia-led Eurasian Economic Union with China's ambitious "Silk Road" economic project.
Russia and China have set a bilateral trade target of $200 billion by 2020.
China is Russia's biggest foreign trade partner, accounting for 11.3 per cent of Russia's foreign trade in 2014. Russia is China's ninth trade partner, with a share of 2.2 per cent in China's foreign trade in 2014.
Russia has also taken over as China's top oil supplier.
In Tashkent on Tuesday, Wang and Lavrov also attended the SCO Foreign Ministers meet.
The SCO meeting on Tuesday adopted the memorandum of obligations for India and Pakistan to join the organization, which will be reviewed by the Tashkent summit for approval, said Wang.
Founded in 2001, the regional security bloc, SCO, now has China, Kazakhstan, Kyrgyzstan, Russia, Tajikistan and Uzbekistan as its full members, with Afghanistan, Belarus, India, Iran, Mongolia and Pakistan as observers, and Armenia, Azerbaijan, Cambodia, Nepal, Sri Lanka and Turkey as dialogue partners.