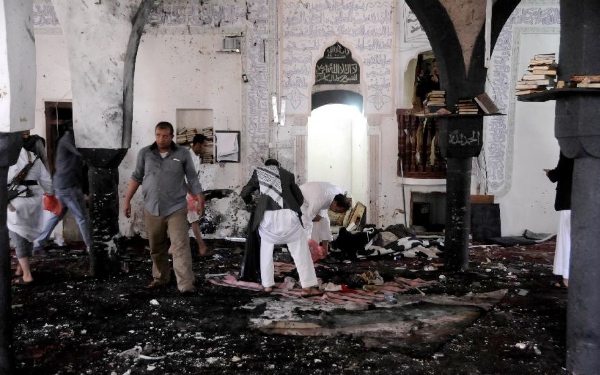 Moscow and Beijing have taken stock of the "the development of the situation in the Middle East" with Russian Foreign Minister Sergei Lavrov and his Chinese counterpart Wang Yi holding a bilateral meeting in Switzerland on Sunday. The two Foreign Ministers met on the sidelines of the Iranian nuclear talks in the Swiss city of Lausanne.
"On March 29 a meeting took place between Minister of Foreign Affairs of the Russian Federation [Sergei] Lavrov and Minister of Foreign Affairs of the People's Republic of China Wang Yi," an official Russian statement said on Monday.
Lavrov and Wang have discussed mutual stands on the Iran nuclear issue and bilateral ties between Moscow and Beijing.
The statement also said that Lavrov and Wang Yi exchanged opinions "on the development of the situation in the Middle East."
China has on Monday sent a naval fleet with three naval ships on an escort mission in Gulf of Aden, to help evacuate Chinese nationals from war-torn Yemen.
About 500 Chinese nationals are caught in the conflict, although there are no reports of any Chinese national killed or injured in the growing violence in the Middle-eastern country.
Russia has warned Saudi-led air strikes on Iranian-backed rebels were affecting crunch nuclear talks between world powers and Tehran.
"Unfortunately, we are seeing that the tragedy that is happening in this country (Yemen) is having an impact on the atmosphere of the negotiations," Moscow's deputy foreign minister and chief negotiator in the Iranian talks, Sergei Ryabkov said.
"We hope that the situation in Yemen will not bring about a change in the position of certain participants," he added.
Citing growing insecurity in its southern neighbor Yemen, Saudi Arabia announced early last Thursday that its fighter jets had hit military targets occupied by the Houthi militia.
Yemeni residents reported heavy clashes between the Houthis and mainly Sunni tribal fighters in the south of the country on Sunday.
Iran denies accusations that it has armed the Houthis.
Houthi fighters seeking to overthrow the Western- and Saudi-backed President Abd-Rabbu Mansour Hadi have continued to make gains since the Saudi-led coalition launched air strikes against them on Thursday.
The director general of Yemen's Health Ministry, al-Khadher Laswar, said more than 68 people had been killed and 452 wounded in the city since Wednesday.