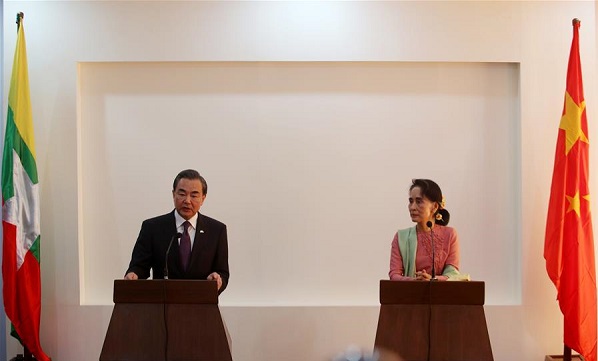 China signalled on Tuesday that it will continue to "deepen mutual political trust" with Myanmar's new government.
Chinese Foreign Minister Wang Yi Tuesday met with Aung San Suu Kyi in Myanmar's capital Naypwidaw to discuss China-Myanmar ties. Myanmar's Parliament has passed a bill giving Suu Kyi a role similar to that of Prime Minister.
Wang stressed on high-level engagements at the earliest to eke out a joint roadmap of Sino-Myanmar cooperation.
During their meeting, Wang said that his official visit to Myanmar at the invitation of Suu Kyi immediately after the new government took office is a clear demonstration of the "paukphaw (brotherly in Burmese) friendship" between the two countries.
"Myanmar is standing at a new starting point in history. China hopes and believes that the new Myanmar government will unite all parties across its country and lead its people to create a new era of development and progress," Wang told Suu Kyi.
The relationship between China and Myanmar is also "standing at a new starting point," the Chinese foreign minister said.
China accounts for over 30 per cent of total foreign investments in Myanmar and Suu Kyi would be keen to boost her relationship with Beijing.
"The China-Myanmar 'paukphaw friendship' goes beyond differences in social institutions. And the changes in Myanmar's inner affairs will not alter China's Myanmar policy," Wang said.
Tensions along the Myanmar side of the Chinese border has aggravated over the recent past as the Myanmar government was besieged by demands of greater autonomy from several ethnic groups.
China has repeatedly raised the issue of reconciliation to halt the civilian strife in Myanmar and called for a ceasefire between government troops and the rebel groups. Artillery shells exchanged between the two fighting sides in Myanmar had flown over the border more than a couple of times and landed inside China. These clashes in Myanmar have also pushed refugees into China.
"On the basis of respecting Myanmar's sovereignty and territorial integrity, China stands ready to play a conducive role in Myanmar's national reconciliation in accordance with Myanmar's needs and willingness," the Chinese Foreign Minister told Suu Kyi on Tuesday.
Suu Kyi noted that Myanmar and China are neighbors with closely-aligned interests.
"Myanmar won't forget China's support and help," especially the help that came at critical moments, she added.
Suu Kyi met Chinese President Xi Jinping in Beijing last year.
"As the new Myanmar government aspires to promote national reconciliation and achieve stability and development, the substantial assistance from China in various aspects means a great deal for our country," Suu Kyi said.
"I believe that China will continue to be Myanmar's good friend," she said.
China has asked Myanmar's new government to resume a stalled dam project in the Southeast Asian country. Outgoing Myanmar President Thein Sein in 2011 suspended the $3.6 billion, Chinese-invested Myitsone dam project.
"Myself and Foreign Minister Suu Kyi reached a consensus, that all problems can find an appropriate resolution via friendly consultations," Chinese Foreign Ministry quoted Wang as saying on Tuesday.
A Reuters report on Tuesday said Chinese state-controlled commodity trader Guangdong Zhenrong Energy Co has won approval from the Myanmar government to build a long-planned $3 billion refinery in Myanmar in partnership with local parties including the energy ministry.
China has traditionally close ties with Myanmar, earlier called Burma.
China and Myanmar share major energy and transport projects and thriving trade ties.
The Myanmar-China natural gas pipeline, China's fourth strategic energy supply channel, was completed in October 2013.
The pipeline is expected to send 12 billion cubic metres of natural gas annually to Myanmar and southwest China, which will reduce coal consumption by 30.72 million tonnes per year.
The project is billed as one of energy-hungry China's most important strategic investments.
China National Petroleum Corp (CNPC), China's top oil and gas producer, owns the pipelines.
It is part of the $2.5 billion Myanmar-China Oil and Gas Pipeline project, which also includes building a crude oil pipeline.