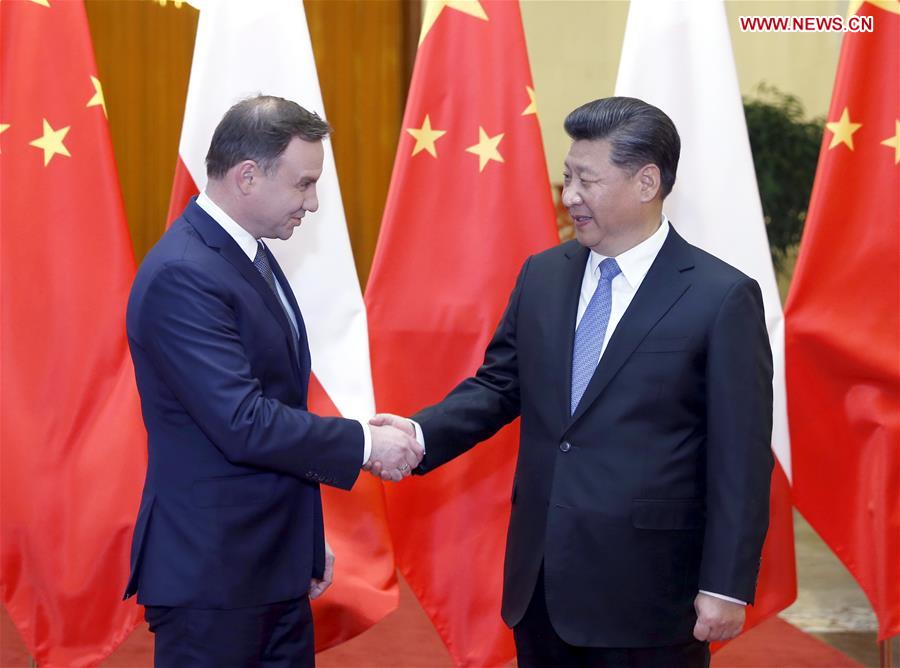 BEIJING, Nov. 25 (Xinhua) — Chinese President Xi Jinping held talks with his Polish counterpart Andrzej Duda on Wednesday, with both agreeing to boost the strategic partnership between the two countries.
Hailing the progress in practical cooperation since the establishment of the partnership in 2011, Xi suggested the two sides further enhance political trust in each other, maintain the momentum of high-level interactions and strengthen coordination in international affairs.
Xi proposed China and Poland quicken the process of aligning the Belt and Road Initiative with Poland's development strategy.
The Chinese government will continue to encourage capable Chinese enterprises to operate in the Polish market and welcomes Polish enterprises to operate in China as well, Xi said.
Given Poland's geographical advantage, Xi said the two sides can study the establishment of a logistics hub in Poland that will serve all Central and Eastern Europe (CEE) countries.
The Polish president said his country stands ready to work to boost "16+1" cooperation, that is, the cooperation between the 16 CEE countries and China. On Tuesday, Duda attended the fourth leaders' meeting between China and CEE countries in eastern Chinese city of Suzhou.
The trip was also Duda's first state visit to China since he took office in August.
During the talks at the Great Hall of the People, Xi said China will cooperate with Poland more closely in multiple areas, highlighting finance, equipment manufacture, environment protection, new energy, information technology, agriculture, science and technology, e-commerce and infrastructure construction.
Xi also hoped Poland will play an active role in promoting the comprehensive strategic partnership between China and the European Union.
Duda said China is an important member of the international community and that it is in Poland's interests to cement the traditional friendship with China.
Poland will make efforts to boost the ties between Europe and China,join in the building of the Belt and Road. As a founding member of the Asian Infrastructure Investment Bank (AIIB), Poland is willing to play an active part in the bank, Duda said.
After their talks, the two presidents witnessed the signing of several cooperation documents, involving tourism, finance and industrial cooperation.
Prior to the talks, Xi held a red-carpet ceremony to welcome the visiting president.