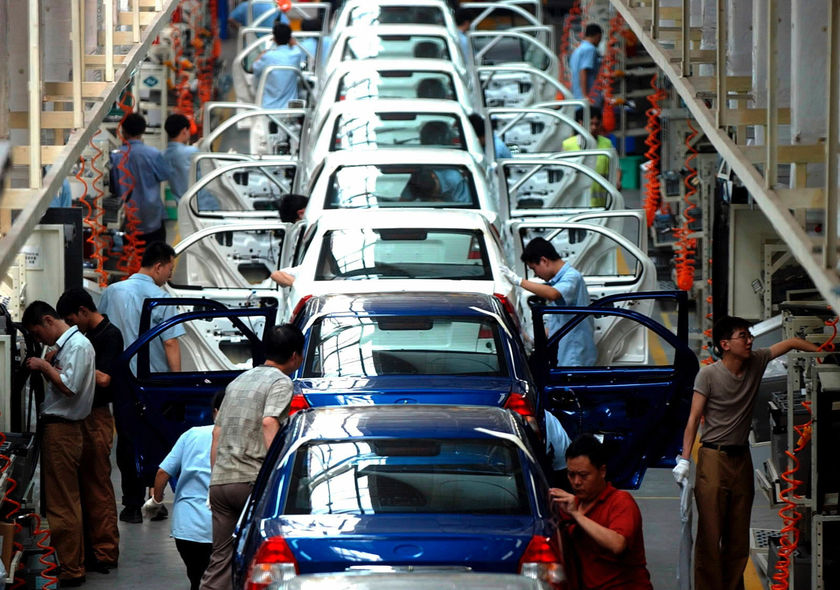 Passenger-vehicle deliveries in China increased at the fastest pace in nine months amid demand for small cars after the government cut a tax to boost sales in the world's largest auto market.
Retail sales of cars, SUVs and multipurpose vehicles climbed 18 percent to 2.02 million units in November, the biggest monthly gain since February, according to the China Passenger Car Association. Retail deliveries this year through last month gained 7.5 percent to 18.2 million vehicles.
China cut the tax levied on vehicles with engines 1.6 liters or smaller by half starting October, benefiting automakers with popular compact models. Nissan Motor Co. and Toyota Motor Corp. posted sales of 22 percent and 14 percent respectively last month, while General Motors Co. and Ford Motor Co. registered gains of 14 percent and 9 percent.
"The tax cut helped the Japanese automakers as they have quite a few popular models that are 1.6 liters and below," said Lin Huaibin, Shanghai-based analyst at IHS Automotive. "They're also in new model cycles, with vehicles such as the recently introduced compact SUVs from Honda and sedans from Toyota and Nissan and these qualify for the tax break."
Nissan, the largest Japanese automaker in China by sales, is set to sell more than one million passenger vehicles in a year for the first time in the country, with "healthy growth" expected in 2016, Jun Seki, the company's head in China, said last month.
Honda Motor Co., which posted a 33 percent growth in sales in China last month, has said it will be able to achieve its full-year target of selling a record 950,000 cars in the country this year, bucking an industrywide slowdown.
Chinese automakers reported mixed results in November. While the country's largest SUV maker Great Wall Motor Co. reported deliveries climbed 21 percent, state-owned Dongfeng Automobile Co. posted a 9.9 percent drop in sales.
Total vehicle sales, including trucks and buses, may increase 3 percent this year, according to Dong Yang, secretary general of the state-backed China Association of Automobile Manufacturers. That contrasts with the average 36 percent growth in the past decade, according to data compiled by Bloomberg Intelligence.