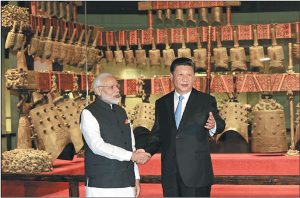 China-India relations have been moving into the fast lane of development after experiencing ups and downs, Chinese Ambassador to India Luo Zhaohui commented in a recent interview.
In April this year,  President Xi Jinping and Indian Prime Minister Narendra Modi successfully held the informal summit in China's central city of Wuhan. Since their Wuhan summit, Xi and Modi have already met twice — first at the SCO Summit in Qingdao in June, and then at BRICS Summit in Johannesburg in July.
The summit, which serves as a milestone, has given impetus for the bilateral relations and forged a new model of exchanges between leaders, Luo Zhaohui said.
In the words of the Chinese envoy, five "Cs" can summarize the priority directions for the two sides in implementing the Wuhan consensus — Communication, Cooperation, Contacts, Coordination, and Control.
The two sides have seen a tone for collaboration set in the Wuhan Summit and consensus increasingly implemented in the follow-up meetings, which has built up a strong momentum for future bilateral relations.
The ambassador said the two sides will focus on four areas to strengthen action by expanding practical cooperation, strengthening coordination in international and regional affairs, enhancing experience sharing in governance and endeavoring to resolve boundary issues.
The last few months have also witnessed more frequent exchanges of high-level visits, enhanced trade ties, closer people-to-people contacts and increased cultural interactions.
What was conceptualized by the two leaders in the Wuhan Summit has begun to materialize as both sides began a joint training program for ten serving Afghan diplomats in New Delhi.
From January to July this year, bilateral trade reached nearly 55 billion U.S. dollars, up by 15 percent on a year-on-year basis.
China attaches great importance to trade balance with India and has lowered tariffs on certain Indian goods exported to China, increased imports of sugar, non-Basmati rice and other agricultural produce from India, facilitated the export of Indian medicines to China, and further improved the trade structure, the ambassador said.
In March this year, the Chinese side sent a business delegation to India and signed import contracts worth about 2.4 billion U.S. dollars. In June, the two countries also inked an agreement on non-Basmati rice. The first consignment of 100 tons non-Basmati rice has been shipped to China from Mumbai.
Since the beginning of this year, China has also taken the initiative to cut tariffs on thousands of products from India and other countries. China's overall tariff level has been further lowered, much closer to that in the U.S. and Europe.
"We welcome more Indian businesses to explore the Chinese market and would like to study and expand bilateral trade and facilitate the export of Indian agricultural produce and medicines to China, so as to increase the scale and level of China-India trade and form a more balanced trade structure," said the Chinese envoy.
On India's participation in the inaugural China International Import Expo (CIIE), slated for Nov. 5-10 in Shanghai, Luo said it would help reduce the trade deficit and improve the trade structure between China and India.
India's focus during the event includes food and agro-products, pharmaceuticals, information technology (IT) and IT-enabled services (ITES) as well as tourism.
The Federation of Indian Export Organizations (FIEO) has been designated as a lead agency to set up the around 140-square-meter Country Pavilion at the CIIE, along with other stakeholders like India's Tourism Ministry, Agricultural and Processed Food Products Export Development Authority, National Agricultural Cooperative Marketing Federation of India Ltd., Marine Products Export Development Authority, Services Export Promotion Council etc. to showcase India's strengths in various sectors.
FIEO has made unremitting efforts to increase India's exports to China, promoting domestic traders' regular participation in established International exhibitions with their Chinese counterparts. Most notable are the "Canton Fair" wherein more than 200 Indian companies participate annually, and the Kunming and Chengdu fairs attracting a whopping number of Indian businesspersons.
These fairs have broadened the platform for Indian companies to showcase their products to Chinese buyers and forge long-term business relations. It has also equipped them with market intelligence to boost exports.
China is currently India's largest trading partner, with total trade output registering 89.71 billion U.S. dollars in 2017-18.
Interactions between Indian and Chinese traders at the CIIE are expected to expedite market access and address the issues particularly for pharmaceuticals, IT-ITES, agro- and processed food sectors, FIEO sources said.
Amidst the U.S. "capricious" trade practices in the name of "national security" and "fair trade," China and India are voicing support for building an open global economy against rising protectionism and unilateralism, as was reiterated earlier in the Qingdao Declaration and cemented in the BRICS Summit's Johannesburg Declaration signed in July.