BANGKOK — Asian companies may not be the world's biggest in terms of sheer market value, but they are winning the race when it comes to growth. That is especially true of Chinese and Indian businesses.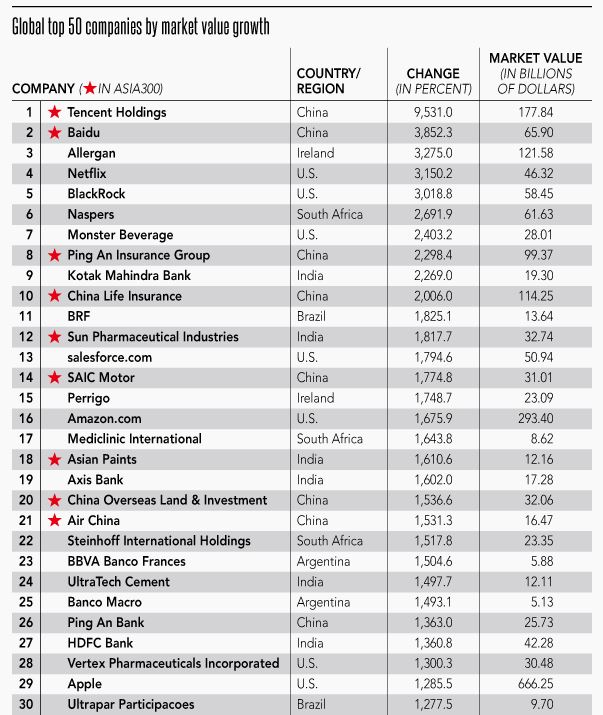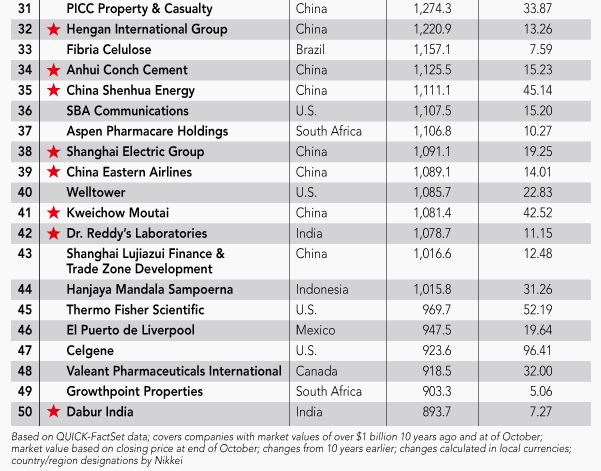 Among the top 100 companies by market value growth in the last 10 years through October, 51 were from Asia, far exceeding the 20 from North America and nine each from Latin America and Europe. China led the pack with 22, while India followed with 16. Over two-thirds from "Chindia" are constituents of our Asia300 list of companies to watch.
Corporate China's great leap forward has been driven by the country's explosive economic growth. Based on data from the International Monetary Fund, China's growth between 2005 and 2014 was a blistering 10% on a simple average, far outpacing the global average of 3.9%.
The global top two by market value growth were Chinese Internet giants Tencent Holdings and Baidu. Both have benefited massively from the surge in the country's Internet population from less than 100 million at the end of 2004 to around 667 million as of mid-2015.
Also making the global top 10 were China's leading insurers, China Life Insurance and Ping An Insurance Group. Revenue from insurance premiums in China reached 2 trillion yuan ($313 billion at current rates) for the first time ever in 2014, an increase of over four times in 10 years. Data released by Swiss Re in June shows that China is now the world's fourth-largest insurance market, after the U.S., Japan and the U.K.
China's top three from the aviation industry — Air China, China Eastern Airlines and China Southern Airlines — made the global top 100. The number of Chinese air travelers in 2014 totaled 392 million, up nearly threefold from a decade earlier and second only to the U.S.
Signs of the boom in consumerism were also reflected in the growth of such companies as SAIC Motor, which mainly produces Volkswagen and General Motors brand cars, and Hengan International Group, a rival of Procter & Gamble and other global players in the fast-growing market for sanitary products.
The subcontinet also rises
Indian companies are close on the heels of their Chinese counterparts in market cap growth. While most of the biggest Chinese players are state-owned enterprises that enjoy the benefits of a huge market closed off in many ways to foreign competition, many of India's top companies are private businesses that are mixing it up on the global stage on their own strength.
Sun Pharmaceutical Industries, a major exporter of generic drugs, is known for its takeovers both in India and abroad, but mainly in the U.S., its largest market. It became the world's fifth-largest drugmaker with the acquisition of local peer Ranbaxy Laboratories. Dr. Reddy's Laboratories has also gone border hopping via acquisitions, with over 40% of its revenue coming from the U.S. In the IT field, HCL Technologies and Tata Consultancy Services made the top 100. Both serve clients around the world.
Also on the list is Dabur India, the world's top producer of traditional ayurvedic medicines. The company has seen its turnover jump from 10 billion rupees ($151 million at current rates) in 2000 to 78 billion rupees today. It has recently waded into premium baby products, going toe-to-toe against such foreign powerhouses as Johnson & Johnson.
With economic growth comes greater demand for building materials. That dynamic has helped drive India's Asian Paints. Backed by a network of over 35,000 dealers, the company controls over half the local market. Just as Anhui Conch Cement has gotten a large boost from China's growth, India's UltraTech Cement, a member of the Aditya Birla group, has been the leading beneficiary in the Indian cement sector. The mightier purchasing power of Indian consumers also translated into strong performances in the auto sector, with Bosch, Mahindra & Mahindra and Maruti Suzuki India all benefiting.
Indonesian consumers have also helped Asia rise in the corporate growth rankings. Unilever Indonesia, a unit of the Anglo-Dutch giant, has been the darling of market participants due to its dominance in the country's growing consumer sector. It holds the top share in more than 10 product categories, including such homegrown brands as SariWangi tea.