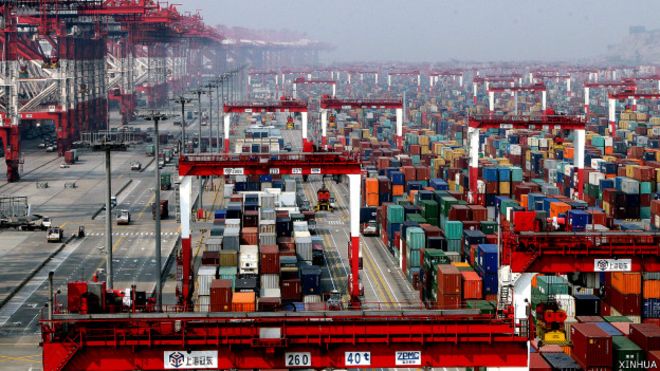 China reported mixed macroeconomic indicators for the first two months on Saturday, which signalled more signs of improvement.
Among the positives from figures released by the National Bureau of Statistics (NBS) are a return to growth for housing construction, booming house sales, a pickup in fixed-asset investment and stable consumption growth.
Industrial output, however, posted slower-than-expected growth amid sluggish exports.
IMPROVING PROPERTY, INVESTMENT
NBS data showed that China's value-added industrial output gained 5.4 percent year on year in the first two months of 2016, the lowest monthly growth since November of 2008.
NBS statistician Jiang Yuan attributed weak factory activity to sluggish external demand, growth deceleration of high energy-consuming industries and a notable drop in the output of the tobacco industry.
CICC, a Beijing-based investment bank, attributed weak industrial output to the Chinese Lunar New Year holiday distortion, where more working days were affected by the Lunar New Year this year than last year.
China's monthly year-on-year macro data in January and February are traditionally distorted by the effect of the lunar New Year, which is difficult to remove statistically due to the short sample periods and floating dates. That is why the NBS only publishes major activity indicators such as industrial production and fixed asset investment for January and February combined.
Weak industrial output in the Jan.-Feb period, however, was cushioned by investment and resilient domestic consumption.
Fixed-asset investment growth picked up to 10.2 percent year on year in the first two months, beating market expectations and up from the 8.2 percent seen in December. Notably, new project investment jumped by 41.1 percent in the first two months, indicating a stronger investment pipeline.
Property investment growth recovered further to 3 percent year on year in the first two months, compared with the 2.1-percent decrease in December, which is especially encouraging since the base for the Jan.-Feb. period 2015 was visibly higher.
New housing construction soared 13.7 percent year on year in the first two months. Sales of residential property, in terms of floor space, jumped 28.2 percent. In revenue terms, sales of residential property soared 43.6 percent, compared with the 14.4-percent gain seen in 2015.
Retail sales of consumer goods grew 10.2 percent year on year in the first two months, NBS data showed.
STABILIZATION
"Cyclical growth momentum may show more visible stabilization in March 2016, especially given the favorable base effect," CICC said in a research note.
Leading indicators of investment growth indicates a potential stabilization of investment growth in the near term, especially the indicators related to inventory restocking, infrastructure investment pipeline and property investment, CICC said.
Tom Orlik, chief Asia economist at Bloomberg, said that a return to growth for real estate construction is a hopeful sign.
"The return to growth in a sector that remains China's main domestic demand driver is clearly significant," he said.
CICC said that China need to restore private sector's investment confidence and improve investment efficiency, which holds the key to the sustainability of investment growth.
"It would benefit China over the medium term if macro policy takes advantage of a potentially benign cyclical environment to carry out much needed structural reforms," it added.