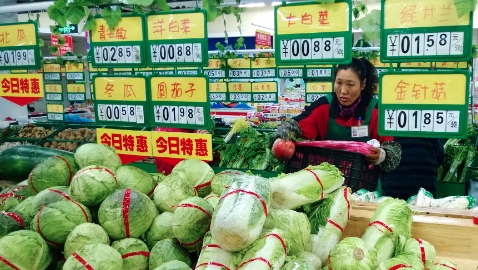 China's consumer prices grew 2.3 per cent in March from one year earlier, the same with February's 2.3 per cent, official data showed Monday.
Food prices jumped 7.6 per cent.
A reduction in pork's importance in the Chinese diet is expected to reduce its outsize impact on the Consumer Price Index.
Pork prices in China will continue to run high, but will not rise remarkably this year, the country's economic planner said on Sunday.
This round of price hike resulted from low prices in previous years, said the National Development and Reform Commission's website.
Pork has played an "overly sensitive" role in China's CPI.
Meanwhile, China's producer price index (PPI), which measures costs for goods at the factory gate, dropped 4.3 per cent year on year in March.