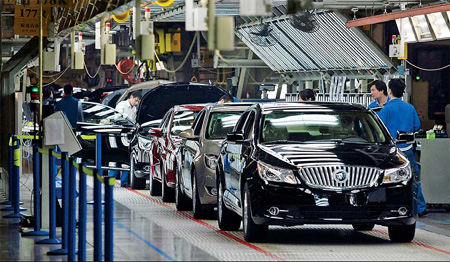 General Motors expects to see China's car market to grow 3-5 per cent every year until 2020, the US automaker said Monday.
GM's top brand Buick is a sales leader in the Chinese market.
Matt Tsien, General Motors chief in China was addressing a press conference in Beijing on Monday.
GM expects SUV and luxury to the be hot segments in China going forward, with SUV and MPV accounting for 40 per cent of the firm's overall China growth.
GM will launch 60 new or refreshed vehicles in the next five years, when more than 10 new green energy vehicles will be introduced to China, Tsien said.
China is expecting its overall vehicles sales this year to grow 6 per cent, compared with 4.7 per cent last year and 6.9 per cent for 2014.
China is a frequent target of Republican presidential candidate Donald Trump, who wants to impose new taxes on Chinese imports to help boost US manufacturing.
General Motors is also planning to import the plug-in hybrid version of its Cadillac CT6 luxury sedan to the US from China.
The plug-in sedan will be the second car GM will import to the US from China.
GM has begun importing a Chinese-made Buick Envision, already introduced in north American showrooms.
China's passenger vehicle sales may rise in line with or slightly better than the rate of gross domestic product growth this year, analysts say. The government is targeting an expansion of 6.5 per cent to 7 per cent in 2016, after recording a gain of 6.9 per cent in 2015, the slowest in 25 years.
Equity income from the company's China joint ventures rose to $572 million from $511 million in the fourth quarter of 2015.
GM lost a combined $1.4 billion in Europe and South America last year.