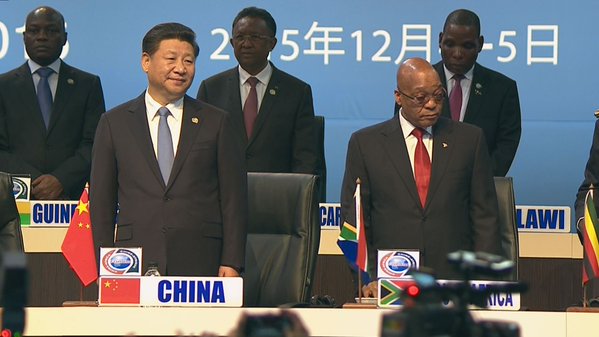 Xi outlined a 10-point development plan in front of an audience comprising African presidents on Friday at the Forum on China-Africa Cooperation (FOCAC) summit.
"To ensure the successful implementation of these ten cooperation plans, China decides to provide a total of $60 billion dollars of funding support," Xi said.
Beijing would fund development on the continent, Xi assured the leaders present.
The programs cover the areas of "industrialization, agricultural modernization, infrastructure, financial services, green development, trade and investment facilitation, poverty reduction and public welfare, public health, people-to-people exchanges, and peace and security".
"China and Africa will deepen co-operation in industrialization, high-speed railways, expressways & regional aviation," said Xi.
Xi also announced that Beijing would send $60 million to the African Union in aid to build the homegrown continental strike force, the African Standby Force, emergency response and quick-response force.
The ASF attains "full operational capability" in December.
"China's capacity and commitment to peace with over 2000 peace keepers in Africa is commendable," South African President Jacob Zuma said at the FOCAC Summit on Friday.
In all, more than 90 per cent of AU peace and security efforts are funded by the likes of the EU and United States, although AU member states have pledged to provide a quarter of the funding for operations by 2020.
Recent security crises in Africa include coups in Guinea-Bissau, Mali and Burkina Faso, offensives by Islamist militant groups in Mali, Nigeria and Somalia, and conflict between rebels in eastern Congo and Central African Republic.
Earlier on Thursday, Xi spent several hours holding separate meetings with nine leaders of African countries in Sandton, a financial hub of Johannesburg.
Xi spoke separately with Togo's President Faure Gnassingbe, Guinean President Alpha Conde, Djibouti President Ismail Omar Guelleh, Ghanaian President John Dramani Mahama, Angolan President Jose Eduardo dos Santos, Malian President Ibrahim Boubacar Keita, Gabonese President Ali Bongo Ondimba, Mozambican President Filipe Nyusi and Kenyan President Uhuru Kenyatta.
South African President Jacob Zuma is co-chairing the FOCAC Summit with the Chinese President on Friday.
"We welcome China-Africa cooperation in infrastructure. We need water, energy infrastructure to improve lives," said Zuma.
"The strategic partnership between Africa and China is vital to achieve development goals," he added.
Zuma also referred to Africa's historical ties with China.
"Originally South Africa-China were partners in arms during apartheid and colonisation hence the FOCAC formation," Zuma noted.
"Minerals have made Africa to be vulnerable to exploitation. FOCAC is about beneficiation and value added exchanges," said the South African President.
The Chinese government has now prioritized infrastructural development in Africa, which resonates with many African policymakers struggling to identify ways to finance the construction of badly needed roads, ports, bridges and railways. Critics of China, however, accuse the country of harbouring neo-colonial designs for the continent.
US President Barack Obama took a swipe at China at a summit of African leaders in August last year, claiming that the US is interested in the continent for more than just its minerals and oil.
Beijing hit back at Obama's dig, saying the US needs to reconsider its attitude to Chinese investment in Africa.
Official Chinese data shows trade between China and Africa exceeded $220 billion in 2014.
China has been Africa's largest trading partner for six years in a row with diplomatic ties with 50 African countries.
Launched in 2000 by China and African countries, FOCAC has become an integral platform to enhance trade and cooperation between the two sides.
The FOCAC was upgraded this year into a summit.
South Africa through its partnership with China is joining in attempts by the BRICS bloc to upend the international order by fashioning a coalition to resist what these countries view as American arrogance.
"While the two countries are strikingly different in their cultural, political and socio-economic orientation, they are very close in the positions they take on key issues affecting mankind," South Africa's Foreign Minister Maite Nkoana-Mashabane said last year, referring to common positions on Syria, Palestine and Iraq.
South Africa, one of Africa's largest economies alongwith Nigeria, has become an increasingly important port of call for China as a gateway to the continent.