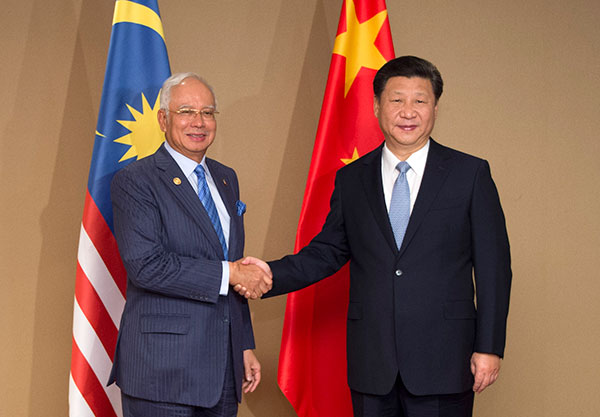 Increased cooperation in line with long-term interests of both nations, president says China is willing to cooperate with Malaysia in areas including bilateral trade and infrastructure construction to benefit the people of both countries, President Xi Jinping said on Tuesday.
Both nations are trustworthy neighbors and partners with mutual respect, Xi said while meeting with Malaysian Prime Minister Najib Razak in Manila on the sidelines of the APEC meeting.
Deepening cooperation is in line with the long-term interests of the two countries, Xi said.
China and Malaysia should seize the opportunities brought by China's initiative in establishing the 21st Century Maritime Silk Road and enhance practical cooperation, Xi said, adding that China will continue to encourage large companies to invest in Malaysia.
The two countries should also enhance cooperation in law enforcement and defense, Xi said.
He praised the Malaysian government's positive contribution to developing the strategic partnership between China and the Association of Southeast Asian Nations.
Xi said China supports Malaysia in successfully hosting the upcoming East Asia Summit and its forums. These are scheduled to be held on Nov 21 and Nov 22 in Kuala Lumpur.
He said this year's APEC meeting is very important for Asia-Pacific cooperation, and China hopes that the meeting can further promote regional economic and trade cooperation.
This year's meeting, with the theme "Building inclusive economies, building a better world", will focus on issues such as regional economic integration, small and medium-sized enterprises, human capital development and sustainable growth.
Najib agreed with Xi's positive comments on ties between their countries, saying the relationship is experiencing its best period.
Malaysia hopes that APEC member states can agree on a regional economic pact as soon as possible, Najib said.
Malaysia supports China's Belt and Road Initiative and wants to improve cooperation with China on finance, infrastructure and mutual connections, he said.
The Belt and Road Initiative, put forward by Xi with a focus on infrastructure, refers to the Silk Road Economic Belt and 21st Century Maritime Silk Road. The initiative uses trade and investment to boost ties along the ancient trade routes and elsewhere.
Malaysia has been China's biggest trading partner among the 10 ASEAN member countries for the past seven years, according to China's Ministry of Commerce.
The two countries have cooperated in many areas, especially in the maritime sector. Two Sino-Malaysian industrial parks have also been set up-the Kuantan China Industrial Park in Malaysia and Qinzhou Industrial Park in China's Guangxi Zhuang autonomous region.
Liow Tiong Lai, the Malaysian transport minister, told Xinhua News Agency last week that the industrial parks have had a tremendous impact on Malaysia's economy.
"For the park in Kuantan, we created a deep sea port, for which China invested 40 percent of the equity. We also have another port in Malacca, working with China's Guangdong province," Lai was quoted as saying.