JOHANNESBURG, Dec. 6 (Xinhua) — Chinese President Xi Jinping and African leaders rounded off a landmark summit here Saturday with a unanimous consensus to upgrade China-Africa relations backed by a roadmap for further boosting mutually beneficial cooperation and common development.
The leaders' meeting, officials and observers from across the region say, has not only ushered the world's second-largest country and "most promising continent" into a new era of common development, but once again testified to China's brotherly friendship and genuine partnership with Africa.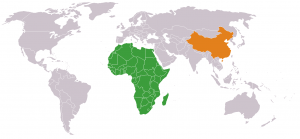 ONE UPGRADE, FIVE PILLARS, TEN PLANS
In his concluding remarks at the summit, the second of the 15-year-old Forum on China-Africa Cooperation (FOCAC), Xi announced that he and the dozens of participating African leaders reached a unanimous agreement to lift the China-Africa relationship to a comprehensive strategic cooperative partnership.
The upgrade, proposed by Xi on Friday in a keynote speech at the opening ceremony, came nine years after China and African countries decided at the first FOCAC summit in Beijing to establish a new type of China-Africa strategic partnership featuring political equality and mutual trust, economic win-win cooperation and cultural exchange.
In support of the historic progress, African leaders endorsed Xi's appeal to strengthen the five "major pillars" of political equality and mutual trust, win-win economic cooperation, mutually enriching cultural exchanges, mutual assistance in security, and solidarity and coordination in international affairs.
To realize the upgrade, the two sides also agreed to carry out 10 major cooperation plans in the next three years in the areas of industrialization, agricultural modernization, infrastructure construction, financial services, green development, trade and investment facilitation, poverty reduction and public welfare, public health, people-to-people exchanges, and peace and security.
The programs, he pointed out when proposing them on Friday, will focus on helping African countries break the three development bottlenecks of backward infrastructure, talent shortage and inadequate fund, accelerate industrialization and agricultural modernization, and realize independent and sustainable development.
As regards the lack of skilled personnel, Xi announced that China will establish a number of regional vocational education centers and several capacity-building colleges for Africa, train 200,000 technicians for African countries, and provide the continent with 40,000 training opportunities in China.
Meanwhile, China will offer African students 2,000 education opportunities with degrees or diplomas and 30,000 government scholarships, he said, adding that each year his country will also invite 200 African scholars to visit China and 500 African youths to study in China each year and train 1,000 media professionals from Africa.
Among many other measures, China will also cancel outstanding debts in the form of bilateral governmental zero-interest loans borrowed by the relevant least developed African countries that mature at the end of 2015, and launch 200 "Happy Life" projects and special programs focusing on women and children, according to the president.
The 10 plans "identified areas where Africa is interested in and which are in our Agenda 2063," commented Nkosazana Dlamini-Zuma, chairwoman of the African Union (AU) Commission, which is a FOCAC member along with China and 50 African countries that have established diplomatic ties with China.
"Those are areas we are going to cooperate on and take this relationship to new heights," she told Xinhua in an interview on Saturday, adding that the cooperation with China will enable Africa to build the three networks of highways, railways and aviation.
Zimbabwean Minister of Industry and Commerce Mike C. Bimha, to whose country Xi paid a state visit before traveling to South Africa, said to Xinhua that the package "is the best a head of state can propose and the best to have come up from FOCAC."
GOOD FRIENDS, GOOD PARTNERS, GOOD BROTHERS
Themed "Africa-China Progressing Together: Win-Win Cooperation for Common Development," the summit adopted a declaration and a 2016-2018 action plan at a plenary session before South African President Jacob Zuma, who co-chaired the summit with Xi, declared the closing of the two-day gathering.
While charting the course for China-Africa win-win cooperation, the leaders' meeting, which Xi described as "a historic conference" and "a complete success," has also been widely lauded as yet another embodiment of the Asian nation's brotherly friendship with its African partners and commitment to common development.
"In conducting China's relations with Africa, we adhere to the principles of sincerity, practical results, affinity and good faith and uphold the values of friendship, justice and shared interests," Xi reaffirmed Friday in his keynote speech, which was punctuated by rounds of applause.
The principles are also enshrined in China's second Africa policy paper, which was released during the summit. It states that China and Africa "have always belonged to a community of shared future" and "have always been good friends who stand together through thick and thin, good partners who share weal and woe, and good brothers who fully trust each other despite changes in the international landscape."
In a telling sign of Beijing's commitment to the principles, the Chinese president met with more than 40 African leaders either separately or in groups on the sidelines of the summit, comparing notes with them on the relations between China and their respective countries and other issues of common concern.
Meanwhile, in order to ensure smooth implementation of the 10 major cooperation plans, Xi announced that his country will proffer 60 billion U.S. dollars of funding support, which comprises 5 billion dollars of grant and interest-free loans, 35 billion dollars of preferential loans and export credit, 5 billion dollars of additional capital for the China-Africa Development Fund and the Special Loan for the Development of African SMEs each, and a China-Africa production capacity cooperation fund with the initial capital of 10 billion dollars.
Besides, Xi stressed at a business forum that his country "is ready to share, without any reservation, advanced applicable technology with Africa" and help strengthen "Africa's internal drive for economic development," and that China-Africa economic cooperation is open, including to companies from other countries on the basis of mutual benefit.
In a tender testimony to China's all-round engagement with Africa, Chinese First Lady Peng Liyuan, who is the World Health Organization Goodwill Ambassador for Tuberculosis and HIV/AIDS, attended an anti-AIDS advocacy activity on Saturday and reiterated China's pledge to support Africa's medical and health programs.
The series of statements and measures are "very encouraging" and indicate that China is very genuine and very serious about its relations with Africa, said Bimha, the Zimbabwean minister, adding that they also show that "China wants to be a true friend of Africa."
In the eyes of Tlohang Sekhamane, foreign minister of Lesotho, "it is clear that China wants to be a partner looking for cooperation with Africa and it seeks opportunities of real win-win cooperation instead of looking for a situation of dominance."
COLONIZATION ACCUSATIONS "A COMPLETE MISCONCEPTION"
While welcoming China's steadfast commitment to and fresh measures on advancing its interaction with their continent, African leaders and observers have also joined the chorus of voices against the claim that China is colonizing Africa.
Xi struck a chord with many African leaders, including Dlamini-Zuma, when he said in Friday's keynote speech that "China strongly believes that Africa belongs to the African people and that African affairs should be decided by the African people."
Africa should be given space to chart its own destiny, echoed the AU Commission chairwoman. "Africa belongs to Africans and we must be allowed to chart our own development path."
Adji Ayassor, minister of state in the Togolese Ministry of Economy, Finance and Development Planning, told Xinhua on Friday that the Chinese president's keynote speech told "the truth about the cooperation between China and Africa."
Contrary to what some claim in the West, China "is not colonizing Africa," he said. "We believe that is the best way to develop Africa. … It (China) is taking a real path of Africa's development. It is a real cooperation."
Ayassor's remarks were in line with what Zimbabwean President Robert Mugabe, who also holds the rotating AU chair, said in his speech at the opening ceremony. While thanking China for its unconditional support for Africa, he slammed actions by the West that have derailed progress in the world's second largest continent.
"China has never been our colonizer, and while some detractors allege that our cooperation with Beijing is commercially driven, the reality on the ground does not conform to such a distorted view," Mugabe remarked.
Kenyan President Uhuru Kenyatta, who was in Johannesburg for the summit, also lashed out at the various insinuations that China's intentions in Africa could be similar to those of the colonialists, telling reporters Saturday that "the perception that China is the new colonizer is a complete misrepresentation of Beijing's activities here in Africa."
"Achievement of mutual benefits is the basis of Sino-Africa cooperation," Kenyatta pointed out. "I don't think that a partner who is helping us fight poverty and other development challenges can be called a colonizer."
What China is doing in Africa is what the colonialists failed to do in the past, namely help Africa out of poverty, he stressed. "China is ready to help us develop and meet our socioeconomic objectives without imposing its agenda on us. This is the outstanding aspect of our cooperation with China."