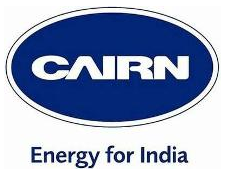 MUMBAI: Anil Agarwal, chairman of London-listed Vedanta Plc, is merging his cash-rich oil and gas company Cairn Indiathat he bought for $8.7 billion in 2011 with his debt-laden mining firm Vedanta Ltd, formerly known as Sesa-Sterlite, in an all-share $2.3-billion (Rs 14,500-crore) deal to create India's leading natural resources company. The long-anticipated move, which simplifies the complex holding structure of the Vedanta group, will take Agarwal a step closer to achieving his ambition of building an India-integrated resources conglomerate in the mould of Rio Tinto or BHP Billiton.
The board of Cairn India and Vedanta Ltd approved the merger on Sunday as part of which minority shareholders of Cairn India will get an equity share in Vedanta Ltd and a redeemable preference share in Vedanta Ltd with a face value of Rs 10 for each equity share held in Cairn India. The swap ratio implies a premium of 7.3% to Friday's close of Cairn India at Rs 181.
"This marks a significant step towards achieving our stated long-term vision of a simplified group structure with alignment of interests between all shareholders for the creation of long-term sustainable value," said Agarwal.
The market sees it as an opportunistic move to use the surplus cash reserves of Rs 16,867 crore in the books of Cairn India to retire debt of Vedanta Ltd, nation's second-most indebted metals company. Vedanta Ltd has a debt of Rs 77,752 crore, excluding a $1.25 billion loan from Cairn India, which is almost 60% owned by it.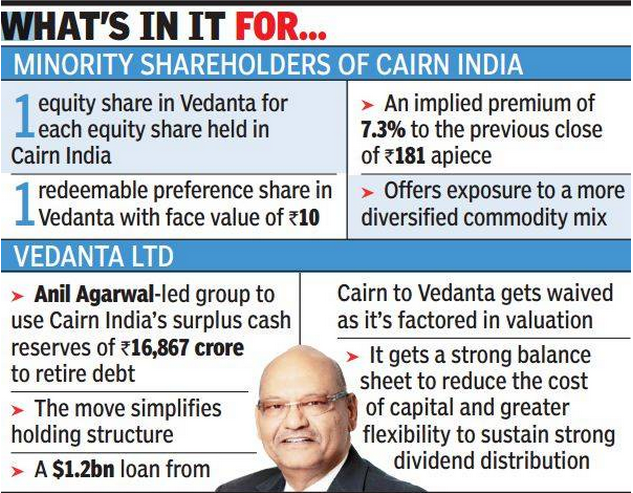 "The book value of Cairn India at Rs 180 is higher than standalone book value of Vedanta Ltd at Rs 140 and the swap ratio doesn't justify the merger. Form shareholders' perspective, a shareholder of a pure oil and gas exploration and production company has been forced into a metals and mining company, which they may not like," investment adviser S P Tulsian told TOI.
Vedanta CFO D D Jalan said the cash at Cairn India and debt at Vedanta have been duly considered in arriving at a valuation and the swap ratio.
Shares of Cairn India closed at Rs 181 on Friday, valuing the company at Rs 33,888 crore, while Vedanta Ltd closed down 2% at Rs 184, valuing it at Rs 54,550 crore.
The transaction needs approval of 50% of minority shareholders of Cairn India, including former parent Cairn Energy Plc, which owns 9.8%, and state-run insurance company LIC, which owns 9%. Vedanta Plc's ownership in Vedanta Ltd is expected to fall to 50.1% after the transaction
"The transaction (merger) is intended to be completed by the first quarter of 2016 and is the second step in the series that started in 2013 towards simplification of the corporate structure," Vedanta Ltd CEO Tom Albanese told TOI, adding that the group will look to further simplify the holding structure, hinting that Hindustan Zinc and Balco may be merged with the parent in the future.