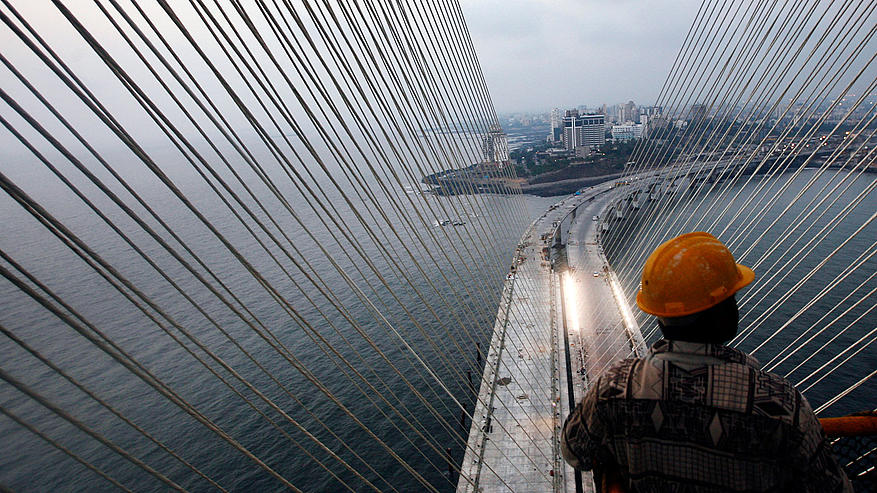 Two of Canada's largest pension funds—Caisse de depot et placement du Quebec (CDPQ) and the Public Sector Pension Investment Board (PSP Investments)—are looking to invest in the Indian infrastructure sector and have started scouting for assets, according to two people familiar with the discussions.
The funds will follow peer Canada Pension Plan Investment Board (CPPIB) which has already committed substantial funds to the Indian infrastructure sector through a plan to invest to Rs.2,000 crore in L&T Infrastructure Development Projects Ltd (L&T IDPL) in 2014.
CPPIB is the country's largest pension fund manager with $268.6 billion in funds as of June 2015.
With a net asset under management of $240.8 billion as of 30 June 2015, CDPQ is the second largest and invests in major financial markets, private equity, infrastructure and real estate globally. PSP Investments, with assets under management worth $112 billion (as on 31 March 2015), is among the top five Canadian pension funds with its infrastructure portfolio focused on sectors such as transportation, utilities, telecommunications and oil and gas.
Both of them don't have any significant exposure to the Indian infrastructure sector so far, said the two people quoted above, requesting anonymity as negotiations are confidential.
As Indian infrastructure assets start to mature and companies look to divest cash-generating assets, these funds are starting to evaluate possible investments here, said the first person quoted above.
One Indian company, which the two Montreal, Quebec-based pension funds CDPQ and PSP Investments are in talks with is Tata Realty and Infrastructure Ltd (TRIL), confirmed both the people quoted above, adding that the discussions have not finalized anything due to a mismatch between valuations.
PSP Investments, CPDQ and TRIL did not respond to email queries sent on 12 October and subsequent follow-ups over phone and email.
TRIL, a subsidiary of Tata Sons, builds and operates real estate assets such as commercial office buildings, shopping malls, hotels and serviced apartments. It is also involved in infrastructure projects across highways and bridges and urban transport. The company is also in the process of acquiring three road projects of Hyderabad-based infrastructure firm IVRCL Ltd.
Post acquisition, privately-held TRIL's road portfolio will have about five projects, which would put the company in a position to attract interest from global investors looking for operational assets, analysts said.
Large global investors, including pension funds, have a large pool of capital and are looking at 14-15% yield opportunity in India (8-10% in dollar terms), said Vikas Khemani, president and chief executive, Edelweiss Securities Ltd. "The need for the investors, however, is for a good partner, who could execute the projects on ground," he said.
The interest from the two global pension funds comes on the heels of an investment from CPPIB which committed an investment of Rs.2,000 crore in L&T IDPL in two tranches in 2014. The second tranche of Rs.1,000 crore from the committed investment is yet to be infused into L&T IDPL.
Apart from investing at the company level, large foreign funds are also willing to pick up an entire portfolio of assets, like in the case of a deal between Gammon Infrastructure Projects Ltd and BIF India Holdings Pte Ltd.
On 28 August, BIF India acquired six road and three power projects from Gammon Infrastructure for Rs.563 crore. BIF India is controlled by Canada-based Brookfield Asset Management and Core Infrastructure India Fund Pte Ltd (CIIF), which is managed by Kotak Mahindra (UK) Ltd.
Deals in infrastructure sector could pick up further as debt-laden infrastructure developers in India start to divest operational assets and prepare to invest in new infrastructure projects being planned by the government.
The government in August allowed so-called build-operate-transfer (BOT) road developers to exit highway projects two years after completion of such projects, irrespective of the year when the project was awarded.
At the same time, global funds are also diversifying their investments towards emerging markets in search for higher yields and for many India has emerged as a preferred investment destination.
According to a 15 October survey by accounting firm EY, India was ranked as the top investment destination across the world for the next three years.
Investment bankers advising on these deals have said a number of global investors, including pension funds and sovereign wealth funds, are keen to pick up a stake in infrastructure projects, particularly operational projects in the road and port sectors.
With both sellers and buyers in the market, infrastructure deal volumes could pick up if there is no mismatch between valuation and return expectations.
Since 2005, 86 private equity funds have invested $2.9 billion in the highway sector, according to VCCEdge, a data service by media firm VCCircle Network. However, one factor which is worrying for investors is the lack of exits from infrastructure investments. Since 2005, there have been only eight exits worth $25 million, Mint reported on 13 October.
Infrastructure projects in India have been hit in recent years by an economic downturn that crimped their cash flows. If some of these deals start to close, the amount of foreign investment in infrastructure could leapfrog recent years' inflows into the sector.
Between 2010 and 2014, private equity and venture capital firms invested only about $757 million in 11 road and highway projects in India, according to consulting and accounting firm Grant Thornton India Llp.