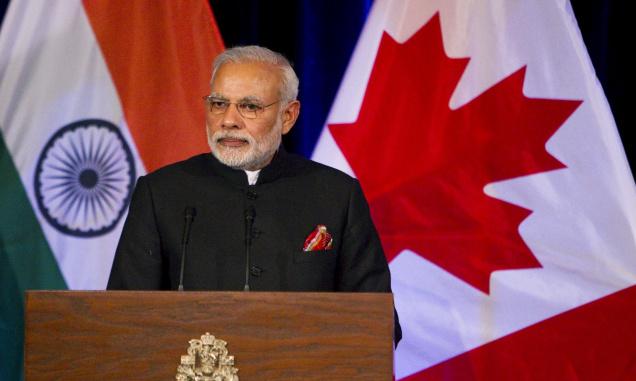 TORONTO: Welcoming the incoming Canadian prime minister Justin Trudeau whose Liberal Party was swept to power on Tuesday, major Indo-Canadian organizations have urged him to fast-track the long-pending free trade agreement with India.
Ajit Someshawar, chairman of the Canada-India Foundation (CIF), urged Trudeau to make a state visit to India as one of his foreign policy priorities and conclude the long-pending Comprehensive Economic Partnership Agreement (CEPA) and the Foreign Investment Protection Agreement (FIPA) between the Canada and India.
Canada and India have agreed to triple their trade to $15 billion, but the progress has been tardy even as the visit by Modi — the first by any Indian PM in 42 years — here in April and two trips to India by his Canadian counterpart have reinforced this pledge.
"The growth in bilateral trade between the two countries has still not reached its full potential and even the modest goal of $15 billion annually is still far away," said the chairman of the Canada-India Foundation which has honoured many great Indians such as former President APJ Abdul Kalam, Ratan Tata, Narayana Murthy and Deepak Chopra with its annual CIF Chanchlani Global Indian Award of $50,000 since its inception in 2008.
Someshawar also urged the new Canadian prime minister to reinforce the Canada-India Inter-parliamentary Friendship Group to bring parliamentarians of the two countries together.He also welcomed the new Family Class Reunification plan announced by the incoming government as it will help the 1.2-million-strong Indo-Canadian community to bring their dependents into Canada quickly.
Canada-India Business Council (C-IBC) vice-chairman Kam Rathee also urged the new Canadian prime minister to conclude the long-pending free trade agreement with India on a priority basis.
"The new prime minister should also set in motion a process to develop trade investment and services so that non-profit associations and organizations that promote Canada-India business get financial support," added Rathee.
Ramesh Chotai, whose Bromed Pharmaceuticals is the biggest Canadian importer of pharmaceutical raw material from India, echoed similar views.
He also said, "Mr. Trudeau's elevation to become the next Prime Minister of Canada brought back sweet memories for me. I came to Canada as refugee from Idi Amin's Uganda, thanks to the policy decisions made by Mr. Trudeau's father and former Prime Minister, Pierre Elliott Trudeau. I am eternally grateful to the senior Mr. Trudeau, whose forward thinking immigration and refugee policies have made Canada the great country it is, now reflected in the diversity of the newly elected House of Commons (which now has 19 Indo-Canadians).