Agriculture ministers of the BRICS (Brazil, Russia, India, China, South Arica) unanimously agreed to establish an Agricultural Research Centre to develop and share models for sustainable agriculture, at their 6th meeting in New Delhi on September 23. Indian Agriculture Minister Radha Mohan Singh, who presided over the two-day meeting, said member- countries would soon sign a MoU to set up the Centre, most likely in India.
Brazilian Agriculture Minister Blairo Maggi, Russian Deputy Agriculture Minister Yevgeny Gromyko, Chinese Agriculture Minister Qui Dongyu and South African Agriculture Minister Senzeni Zokwana led their respective delegations at the meeting, prior to the 8th BRICS summit to be held on October15-16, in Goa.
The BRICS Agriculture Ministers plan to sign the MoU to set up the Centre at the Summit in Goa. The Centre will be established in the period 2016-21.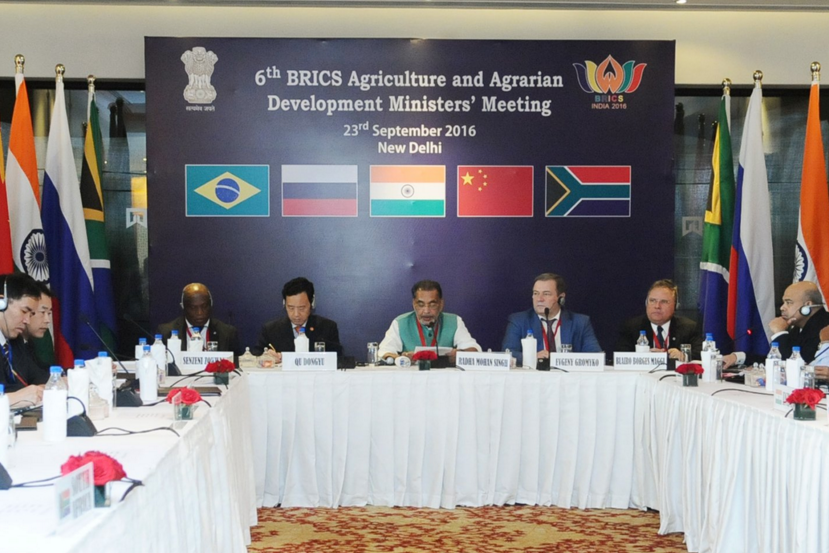 The Centre is envisaged as a virtual facility to promote food security, sustainable agri-development and poverty alleviation through strategic cooperation in agriculture within the BRICS countries. It aims to work on agriculture science, policy research and development extension, technology transfer, training and capacity building and scientific information sharing. It will also act as a forum for academicians, scholars, researchers and students for agricultural advancement, in the BRICS, viewed as the five major emerging economies of the world. BRICS countries account for 45 percent of the global agricultural output.
India hosted the two-day ministerial meeting for the first time. It started with a meeting of high-level officials of the BRICS countries on September 22, followed by the ministerial meeting the next day.
Addressing the meeting, Russian Minister Gromyko said BRICS countries have vast resource base, large domestic market and rich natural resources.
"Our countries are key suppliers of agricultural products to the world market. In this regard, there is a great opportunities for mutual cooperation and Russia is ready to contribute in this work," he said.
The five priority areas of cooperation in the BRICS Action Plan for 2012-16, were at the top of agenda of the Agriculture Ministers meeting.
"We are satisfied with the implementation of the action plan for 2012-16. We have already identified the priority areas to be incorporated in the action plan for the next five years," Singh told reporters after the ministerial meeting.
Under the current action plan, sources said, in addition to India working on setting up a virtual research platform, Russia is preparing a document on international trade and investment. China has been working on establishing an agri-database of BRICS countries, Brazil on food security to most vulnerable people and South Africa on developing a strategy on climate change.
In a joint statement issued at the end of their meeting, the emphasis was on boosting agri-investments in both public and private sectors, the need to protect small farmers, investments in water infrastructure, use of IT and communication technology, climate resilient agriculture, among others.
The Agriculture Ministers also agreed to declare year 2016 as the International Year of Pulses in accordance with the declaration made by the UN General Assembly. They also decided to promote production of pulses in their respective countries and raise awareness about its nutritional aspects, the joint statement said.
Facing a serious shortage of pulses and oilseeds, India urged the BRICS to help meet the domestic demand in pulses and oilseeds.
"India would like to seek cooperation from BRICS member-countries in helping to meet our production shortfall in crops like pulses and oilseeds," Singh said in his address at the meeting.
"All must work together to enhance trade among our countries by resolving market access issues through institutional mechanisms," Singh said. Innovative working models must be developed, like contract farming and leasing of surplus land, he stressed.
India is heavily dependent on import of pulses to meet the shortage in domestic production. As a result of better monsoon rains and a higher minimum support price, the production of pulses is estimated to increase to 20 million tons in 2016-17, but the production is still lower than domestic demand of 23-24 million tons.
Singh met his South African counterpart Senzeni Zokwana on the sidelines of BRICS agriculture meeting and requested him to expedite the MoU to be signed for the import of pulses.
The BRICS Agriculture Ministers meeting also approved the scrapping of agri-export subsidies as agreed at WTO's ministerial meeting in Nairobi and resolved to work for safety and long-term agri-trade.
It recognized the importance of the conclusion of the Trade Facilitation Agreement (TFA) ratification process for perishable food trade. The meeting also agreed to consolidate the scientific principles in sanitary and phyto-sanitary discussions in order to provide safety and predictability to agricultural trade.