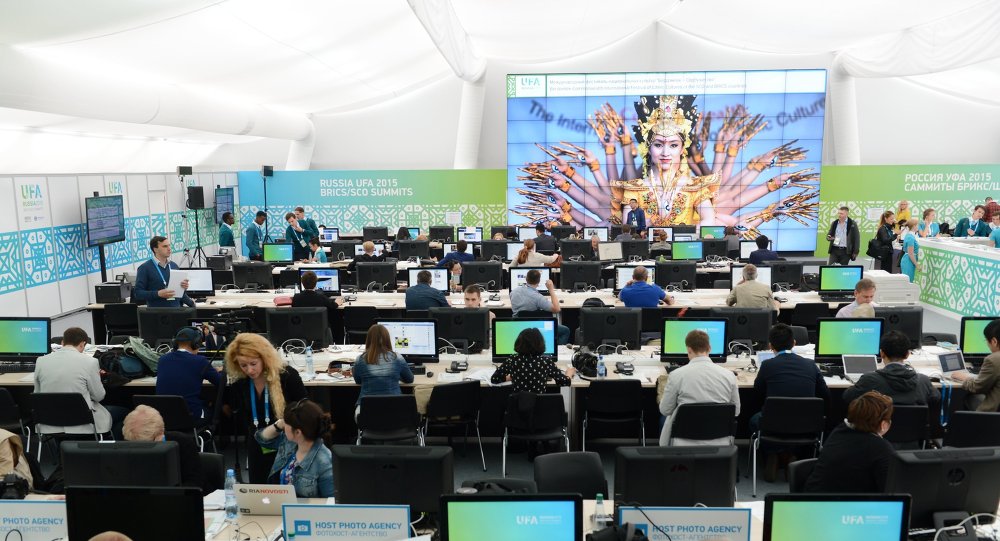 The 2015 summit will be marked by the adoption of a new economic document prepared by BRICS, as well as the launch of the New Development Bank (NDB). The NDB is seen as an alternative to Western banking systems and is intended to support infrastructure projects in the developing countries.
Since the previous BRICS summit in Brazil's Fortaleza, the five counties have strengthened their ties at several levels, promoting economic, business, trade and cultural cooperation as well as establishing dialogue at the parliamentary level.
The highlight of the year is the establishment of the NDB, which is expected to be launched this week. The agreement on the creation of the New Development Bank was signed on July 15, 2014, at the BRICS summit in Fortaleza, Brazil.
The countries have established a $100-billion liquidity reserve to maintain the bank's financial stability.
The member states expressed concern over the reforms of the International Monetary Fund (IMF), the World Bank and the UN Security Council. At present, BRICS is discussing the creation of an independent rating agency, as well as a separate SWIFT currency transfer information system for the five countries.
Greece was invited by Russia to join the NDB in May and is reported to be considering the proposal.
On Wednesday, members of the BRICS business community will work out proposals on how to improve business cooperation within the group.
Trade turnover between BRICS countries amounted to $291 billion in 2014. These figures are offered as proof that the five countries "have chosen the right way to develop cooperation on the economic track," according to Russian Economic Development Minister Alexei Ulyukayev.
Russia, currently holding the annual presidency in BRICS, attaches great importance to the development of interaction with BRICS member states, and considers the relationships a foreign policy priority.
The BRICS meeting precedes the summit of the Shanghai Security Organization (SCO) starting on Thursday in the same city.
The only time the summits of both organizations coincided was in 2009 in Russia's city of Yekaterinburg.
For the coverage of the summits in social networks we use the following hashtags #SCO #BRICS #SCO2015 #BRICS2015 #Ufa2015.