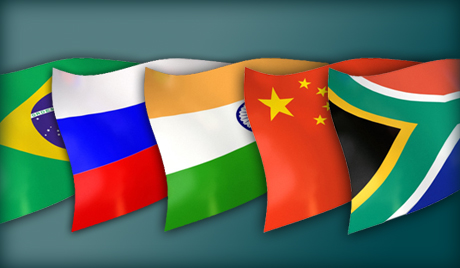 The BRICS nations are looking to set up a new credit-rating company in an effort to break the dominance of the big three developed-nation firms.
Seeking to lower borrowing costs they say are excessively high thanks to the assessments of S&P Global Ratings, Fitch Ratings and Moody's Investors Service, the group including Brazil, Russia, India, China and South Africa aims to create a competitor with a different fee structure.
The creation of a ratings company that doesn't rely on revenue from clients who want their debt assessed "is actively under discussion," Yaduvendra Mathur, chairman and managing director of the Export-Import Bank of India, said by phone on June 16. The government-backed lender is part of a working group studying the feasibility of a new credit-assessment company before the next BRICS summit due in October.
The biggest hurdle for a BRICS credit-assessment company would be convincing U.S. and European investors that the ratings are assigned without government pressure. Critics of S&P, Fitch and Moody's say they are beholden to the companies they rate because their revenue comes from these clients.
'Healthy Competition'
"It will take a while for the BRICS credit rating agency to acquire that sort of credibility," said Rajrishi Singhal, senior fellow for Geoeconomics Studies at Gateway House. "It won't happen from day one. Investors will be watching very closely how they rate and what are the processes they have undertaken."
U.K.-based Fitch said the ratings of emerging markets are limited by a reliance on external funding, which often leaves them with less flexibility to address economic and political volatility.
"Any rating agency must establish a reputation for independence, and the management of conflicts of interest," Daniel Noonan, a Fitch spokesman, said in a June 16 e-mail. Fitch "believes strongly in healthy competition," he added.
S&P and Moody's, both based in New York, didn't answer e-mailed questions sent June 16.
Developing nations say they receive harsher assessments than their developed counterparts, which makes borrowing more costly for them because corporate ratings are capped at the sovereign level.
More Expensive
"My bonds are more expensive than many other countries," said Mathur, whose foreign-currency debt is ultimately priced at India's lower-rating level despite an AAA rating from Crisil Ltd. — a unit of S&P that only gives ratings on debt issued within India. "This is not the right architecture."
Crisil is spearheading research into the new pricing model for the BRICS ratings company and will share its findings with the EXIM Bank, Mathur said. A final decision on the structure will be taken by political leaders in the grouping, he added, without providing further details on alternative pricing models. Crisil declined to comment on its research.
The big three credit-rating companies currently control more than 90 percent of the market, and have been criticized for assigning top ratings to risky debt that triggered the 2008 financial crisis.
In recent years, BRICS nations have clashed with international assessors. Russia started its own rating agency this year after condemning its downgrade to junk as politically motivated, while one of China's three biggest credit-assessment companies currently rates U.S. foreign-currency government debt lower than both China and Russia.
The BRICS countries, which account for more than a quarter of the world's economic output, had set up their own multilateral institution headquartered in Shanghai to fund infrastructure projects. The New Development Bank, currently headed by an Indian, "could be a user" of the new ratings agency, Mathur said.