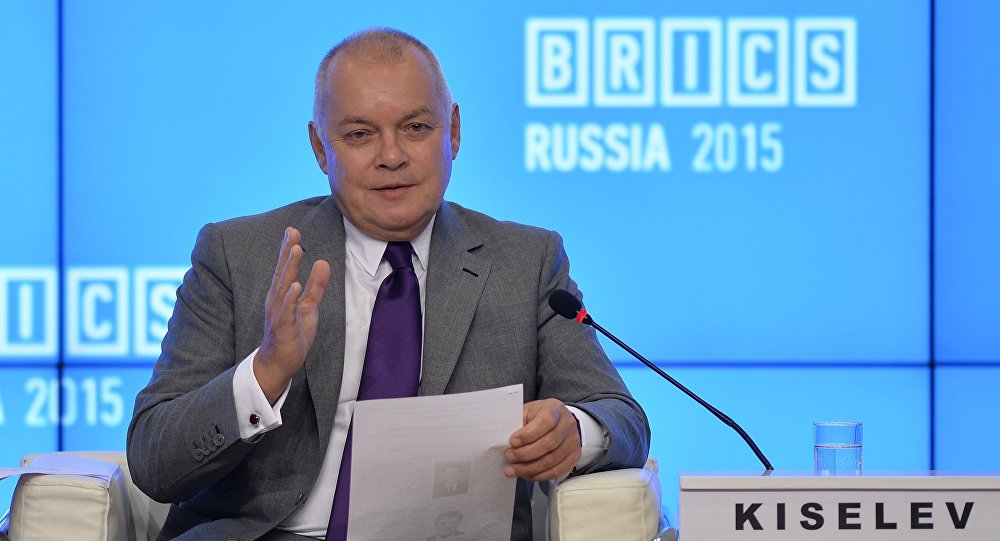 BRICS member states share the same values ​​and the same multipolar vision of the world, Rossiya Segodnya International Information Agency's Director General Dmitry Kiselev said Thursday.
Kiselev spoke at the opening of the BRICS Media Executives Forum hosted by Rossiya Segodnya.
"We look forward to collaborating with our colleagues in the BRICS countries and we believe that we are absolute allies in both the values and the model of the world… it is a model of a multistructural, multipolar, multicolored world, where China is Chinese, India is Indian, Turkey is Turkish and so on," Kiselev said.
He added that "in this concept, each country has a right for their own way of life and speed of development."
According to Kiselev, Rossiya Segodnya's basic idea is a point of view "alternative to the US mainstream, and judging by the popularity of our websites, there is a demand for an alternative point of view now."
The forum, organized by Rossiya Segodnya, brings together leading media executives from Brazil, Russia, India, China, and South Africa, together known as BRICS, a group of developing countries.
Managers from the Chinese news agency Xinhua and China Daily newspaper, South Africa's Africa News Agency, Brazil's ECB media corporation and India's Sahara Samay news channel are among participants at the meeting.
The forum's key objective is to create a common information space between BRICS member states.