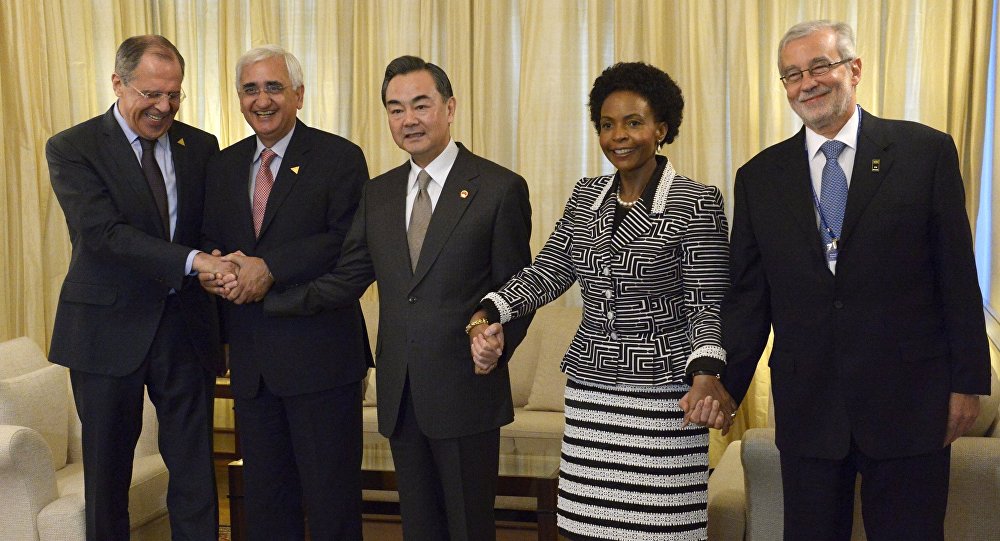 Foreign ministers of BRICS member states took part in a meeting on the sidelines of the UN General Assembly, discussing increasing cooperation and exchanging opinions on the current issues, the Russian Foreign Ministry said in a statement Wednesday.
"The sides expressed satisfaction with the implementation of the Ufa plan of action, adopted this year at the BRICS summit in July. They noted the importance of strengthening cooperation of the union's representatives on international platforms," the ministry said on Facebook.
According to the ministry, the BRICS foreign ministers also exchanged opinions on the issues on the agenda of the UN General Assembly to make sure they were on the same page.
The ministers also expressed concern over continuing conflicts in several regions of the world, which undermine stability and security.
BRICS is an association of five major developing economies, comprising Brazil, Russia, India, China, and South Africa, that represents almost three billion people and some 20 percent of global gross domestic product.
On July 9, the BRICS group adopted the Ufa Declaration, outlining a common position on settling the Syrian Civil War and cooperation in fighting against the Islamic State terrorist group, among other points.