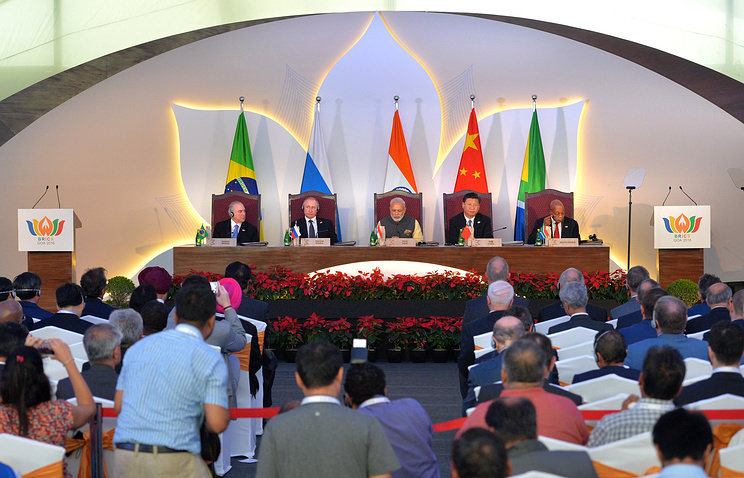 The BRICS member countries, namely Brazil, Russia, India, China and South Africa, are confident that the warring parties in Syria must settle the conflict by peaceful means in the interests of the Syrian people, according to a final declaration adopted by the BRICS leaders at their summit in India's Goa of Sunday.
"We call upon all parties involved to work for a comprehensive and peaceful resolution of the conflict taking into account the legitimate aspirations of the people of Syria,through inclusive national dialogue and a Syrian-led political process based on Geneva Communique of 30 June 2012 and in pursuance of the UN Security Council Resolution 2254 and 2268 for their full implementation," the document says.
The BRICS member countries also called to continue struggle against terrorist groups designated so by the United Nations Security Council, such as Islamic State and Jabhat al-Nusra.
Apart from that, the BRICS leaders expressed concern over the situation in the Middle East. "We are deeply concerned about the situation in the Middle East and North Africa. We support all efforts for finding ways to the settlement of the crises in accordance with international law and in conformity with the principles of independence, territorial integrity and sovereignty of the countries of the region," they said in the declaration.
Situation in Afghanistan
Member countries of the BRICS association are concerned over security problems in Afghanistan, according to the declaration.
"We express deep concern at the persisting security challenges in Afghanistan and significant increase in terrorist activities in Afghanistan. We affirm support to the efforts of the Afghan Government to achieve Afghan-led and Afghan-owned national reconciliation and combat terrorism, and readiness for constructive cooperation in order to facilitate security in Afghanistan, promote its independent political and economic course, becoming free from terrorism and drug trafficking," the document says.
The BRICS leaders stressed that capable and effective Afghan National Security Forces should be the key to the stabilization of the situation in that country.
"The Leaders stressed the importance of multilateral region-led interaction on Afghan issues, primarily by those organisations, which consist of Afghanistan's neighbouring countries and other regional states, such as the Shanghai Cooperation Organisation, Collective Security Treaty Organization, and the Heart of Asia Conference," the declaration says.