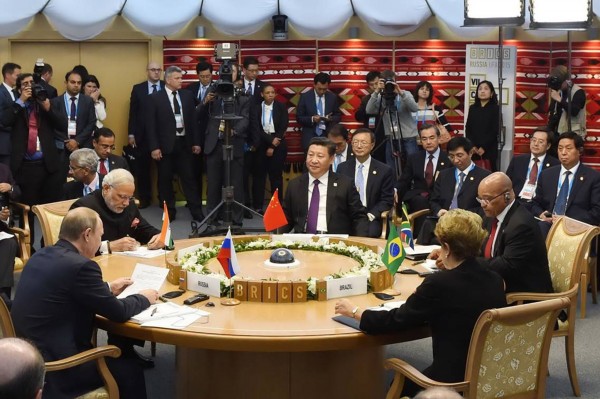 The New Development Bank (NDB) launched by the BRICS countries has issued its first bonds worldwide to raise funds for clean energy projects in member states.
The new lender sold 3 billion yuan ($449 million) of yuan-denominated, green bonds in China's interbank market on Monday.
The green bonds were issued with a 5-year tenor and are the first such issuance by a bank of its type under guidelines issued by China's central bank in December
It was the first time in seven years that a global financial institution has issued yuan-denominated bonds in China.
The bonds attracted investors from home and abroad. At its roadshow last Tuesday, more than 40 domestic and overseas institutional investors subscribed to the bonds.
NDB president Kundapur Vaman Kamath said the issuance was a milestone for the multilateral development bank. It will help boost sustainable development and serve as a signal of support for capital markets in BRICS countries, Kamath said.
Kamath said the bank "will support more clean and renewable energy use to reduce carbon emissions".
Issuance of the yuan-denominated bonds shows the confidence international financial institutions have in the Chinese currency and could promote the internationalization of the yuan, said Chen Siqing, governor of the Bank of China.
Bank of China Limited is the lead underwriter and book runner for the issue, while joint underwriters include the Industrial and Commercial Bank of China Limited , China Construction Bank Limited , HSBC Bank (China) Company Limited and Standard Chartered Bank (China) Limited.
The NDB also plans to issue another 10 billion yuan in green bonds in China in the next six months, said Leslie Maasdorp, NDB's vice president and chief financial officer.
The bank is also planning to sell bonds in Russia and India to fund green projects there, Maasdorp said.
Earlier this year, Russian Finance Minister Anton Siluanov said the NDB "will soon become a strong and well-respected international financial institution, playing a leading role in the changing international financial architecture".
The bank plans to employ about 100 staff globally by the end of 2016 and will soon begin hiring in Brazil, Russia, India, China and South Africa.
The first regional office of the BRICS Bank will be set up in Johannesburg, South Africa and "will be the face of NDB for the continent".
BRICS members, China, India and Russia are also the three largest shareholders in the China-led Asian Infrastructure Investment Bank (AIIB).
Both the BRICS Bank and the AIIB will extend China's financial reach and compete not only with the World Bank, but also with the Asian Development Bank, which is heavily dominated by Japan.