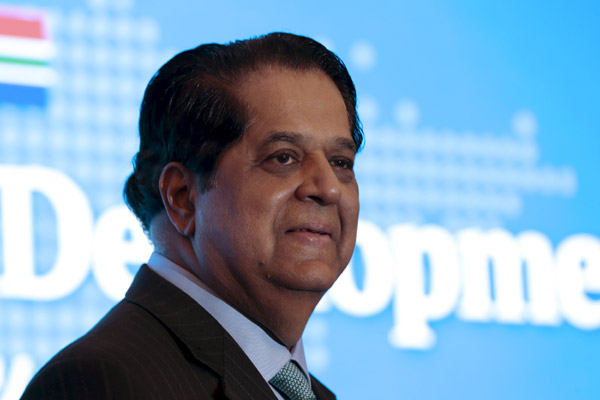 The New Development Bank (NDB) launched Tuesday by the emerging-market bloc of BRICS has won high praise from the international community, particularly its role in helping establish a fairer global governance system.
According to an agreement Brazil, Russia, India, China and South Africa reached at the sixth BRICS summit in Brazil a year ago, the Shanghai-based bank aimed at financing infrastructure projects will start operations at the end of this year or in early 2016.
"The establishment of the bank will help solve the bottleneck of infrastructure investment and financing facing emerging markets and developing countries, promote sustainable development and boost global economic recovery and growth," the report quoted Chinese Finance Minister Lou Jiwei as saying.
"Our objective is not to challenge the existing system as it is, but to improve and complement the system in our own way," the report quoted NDB President Kundapur Vaman Kamath as saying.
The NDB will have an initial authorized capital of $100 billion, with the initial subscribed capital of $50 billion equally shared by the founding members.
According to Jim O'Neill, a British economist who coined the term "BRIC", the BRICS' influence is likely to rise as a group in terms of global governance.
"What the bank will prioritize in terms of lending and projects, we will have to wait and see," he said. "But one can think of many good ideas including shared road and rail infrastructure challenges, especially those with some common borders."
Reinaldo Goncalves, a professor of international economics at the Federal University of Rio de Janeiro, told the Brazilian website Sputnik Brasil that the NDB and the Contingent Reserve Arrangement (CRA) are "an interesting alternative" to the IMF.
Last July, the BRICS countries also agreed to establish the CRA. China will contribute $41 billion to the capital stock; India, Brazil and Russia will each pay in $18 billion; and South Africa's share will be $5 billion.
Goncalves said he agreed with the Brazilian government's viewpoint that the NDB will play a decisive role in BRICS cooperation, promote investment in infrastructure and sustainable development, and benefit not only BRICS nations but also other developing countries.
An article published recently on the website of the Indian Express highlighted the importance of the BRICS bank at a time when the current Western-dominated international financial system has been underperforming.
"Despite the best intentions of many working at the World Bank and IMF, existing international financial institutions have consistently fallen short of their aim to provide development assistance to the most marginalized," it said.
"With their often-problematic loan conditions, they have at times impeded rather than promoted equitable development. The NDB could change this," the article added.
Indian paper Business Standard said the creation of newer multilateral development banks such as the NDB and the Asian Infrastructure Investment Bank (AIIB) "demonstrate the aspirations of the developing world for greater infrastructure and economic development".