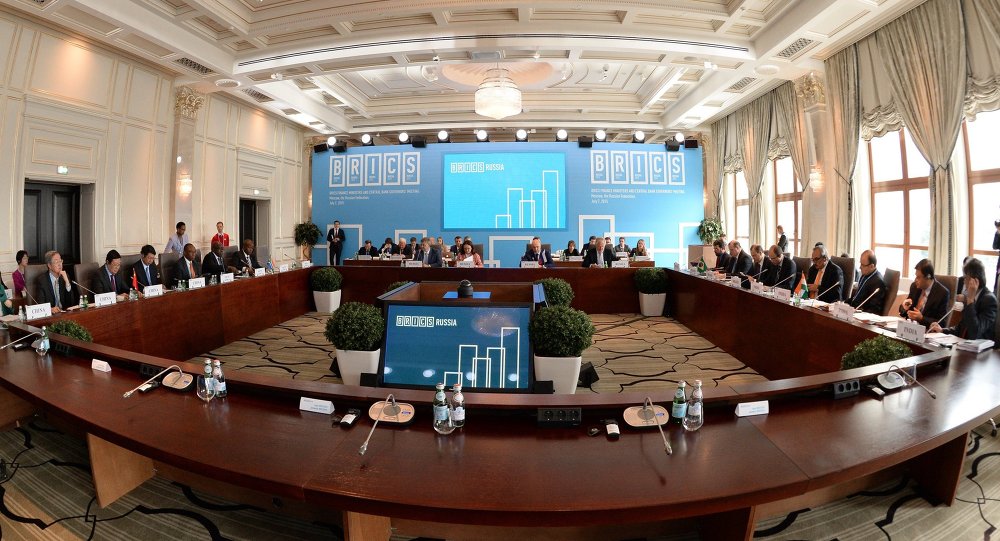 BRICS New Development Bank (NDB) operations could be started by borrowing in Chinese currency, the yuan, to provide sufficient financing, the bank's Vice President Vladimir Kazbekov said Tuesday.
"Of course, taking into consideration the stability of the Chinese currency and the scale of the Chinese debt market, I think that one of the first steps in providing the New Development Bank with funds may be entering the Chinese market to borrow in yuan," Kazbekov said, opening a BRICS media summit in Beijing.
Kazbekov added that the bank has detailed methods to enter other BRICS member state financial markets, including Brazil, Russia, India and South Africa.
The agreement to establish the NDB, with an initial capitalization of $100 billion, was signed by the BRICS member states — Brazil, Russia, India, China and South Africa — during the group's 6th summit in Fortaleza, Brazil in July 2014. The bank was officially launched this summer.
A decision by the International Monetary Fund (IMF) to elevate the Chinese yuan, also known as the renminbi, to reserve currency status will reduce exchange risk, Vladimir Kazbekov said Tuesday.
On Monday, the IMF stated that it would include the renminbi in the so-called Special Drawing Rights (SDR) basket starting October 2016.
"I think it's very good. This will significantly reduce the currency risks," Kazbekov told reporters on the sidelines of the BRICS media summit in Beijing.
Kazbekov added that this decision would also positively affect the work of the BRICS bank.
China has lobbied for the currency to be included in the list, which at present is made up of the US dollar, the euro, the pound and the yen. The list has not been altered since 2000, when the euro replaced the French franc and the German deutschmark.