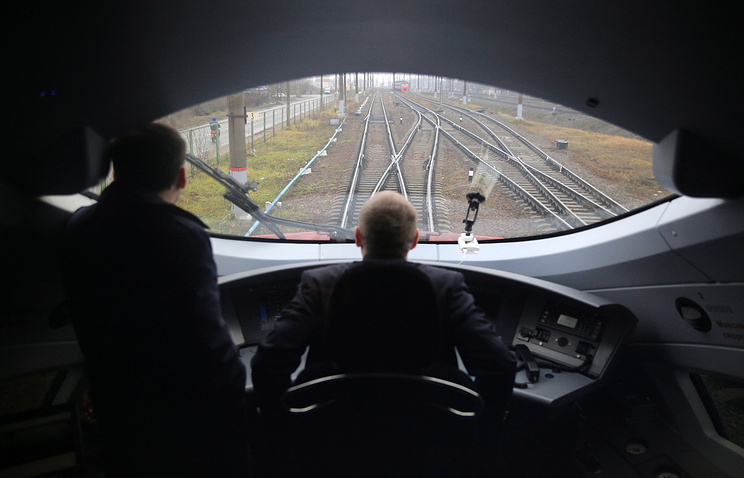 The New Development Bank BRICS (NDB BRICS) and Asian Infrastructure Investment Bank (AIIB) are ready to follow China by financing Moscow-Kazan high-speed railroad, First Vice-President of Russian Railways state-owned monopoly Alexander Misharin said Friday.
"We've met the head of the bank (NDB BRICS – TASS) to demonstrate our model, they are satisfied with it and say they will follow suit in case we strike a bargain with Chinese banks. The New Development Bank BRICS can invest up to $500 mln. AIIB is a big bank, which can invest billions but it's not going to be the first, it may be the second," he said, adding that "potentially they are ready."
Earlier Misharin said that Russian Railways had applied for finances from the New Development Bank for a few infrastructure projects, including the Moscow-Kazan high-speed railroad, and planned to apply to the Asian Infrastructure Investment Bank for funds.
The total cost of the Moscow-Kazan high-speed railway line is estimated at 1.068 trillion rubles ($16.9 bln). The Moscow-Kazan section may later be extended to China, connecting the two countries across Kazakhstan.
China plans to extend a loan in the amount of 400 bln rubles ($6.2 bln) loan for 20 years for the high speed railway construction and allocate over 100 bln rubles as a contribution to the equity capital of the special project vehicle.
The Moscow-Kazan High Speed Railway's total length will stand at around 770 kilometers. Trains may go at a speed of 350-400 kilometers per hour, and the time en route between the two cities could be 3-3.5 hours against the current 14 hours.