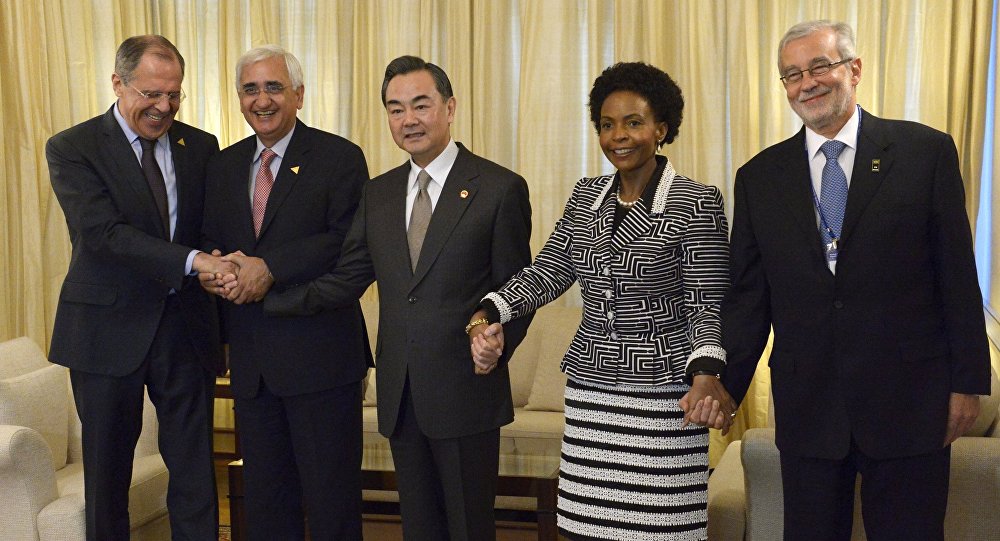 BRICS countries stand for the boosting of the United Nation's key role in global affairs and oppose any attempts to solve problems by exerting power or pressure, including by the use of unilateral sanctions, Russian Foreign Minister Sergei Lavrov said Tuesday.
MOSCOW (Sputnik) – Lavrov pointed out that in light of the currently troubled situation in the international arena it was necessary to negotiate and find compromises that could create long-term, stable relations.
"BRICS members are strongly committed to the fundamental principles and norms of international law. We speak in support of strengthening the central coordinating role of the United Nations in world affairs, and do not accept attempts to solve problems from a position of power, interference in internal affairs, pressure of some countries on others, including the imposition of unilateral sanctions," Lavrov said at a BRICS Global University Summit (GUS).
According to the minister, the increasing threat of terrorism and extremism's advance in the Middle East and North Africa comes as a result of external interference in weak state institutions in the region.
"The attempts to carry out the geopolitical engineering, overthrow undesirable regimes led to the destruction of security mechanisms, chaos, anarchy, risk of the states' collapse and the seizure of their territories by terrorists," Lavrov stressed.
BRICS is an association of five major developing economies, comprising Brazil, Russia, India, China, and South Africa.