Brazil's industrial output in September fell less than forecast by analysts, as the central bank maintains rates at a nine-year high in the face of recession.
Output in September fell 1.3 percent from the previous month after a revised 0.9 percent decline in August, the national statistics agency said in Rio de Janeiro. The fourth straight monthly decline was smaller than the median 1.5 percent drop forecast from 38 economists surveyed by Bloomberg. Industrial output fell 10.9 percent from the year before, the biggest drop since 2009.
President Dilma Rousseff is laboring to shore up the nation's finances and avoid further credit ratings downgrades, as one of the world's steepest currency depreciations helps Brazilian exporters. Neither has prevented industrial confidence and capacity utilization from plumbing new lows. Borrowing costs in Latin America's largest economy are at their highest since 2006, the economy is mired in recession, and investment is withering.
The better than expected data stemmed from output of capital goods in September, a barometer of investment, which rose 1 percent, according to Luciano Rostagno, chief strategist at Banco Mizuho do Brasil SA. The increase follows seven straight monthly declines, including a 7.6 percent tumble in August, so it doesn't indicate a change of trend, he said.
"No change in the big picture despite being slightly better than market consensus," Rostagno said. "The industry sector remains on a downward trend. It's down 3.2 percent quarter-on-quarter in the third quarter, so the sector will be a big drag on growth."
Swap rates maturing in January 2017 fell two basis points, or 0.02 percentage point, to 15.36 percent at 9:40 a.m. local time. The real was little changed at 3.7709 per U.S. dollar. It has dropped 29 percent this year, the most among 31 major currencies tracked by Bloomberg. The real's decline has boosted the competitiveness of companies' exports and helped cut imports as the price of foreign goods rises.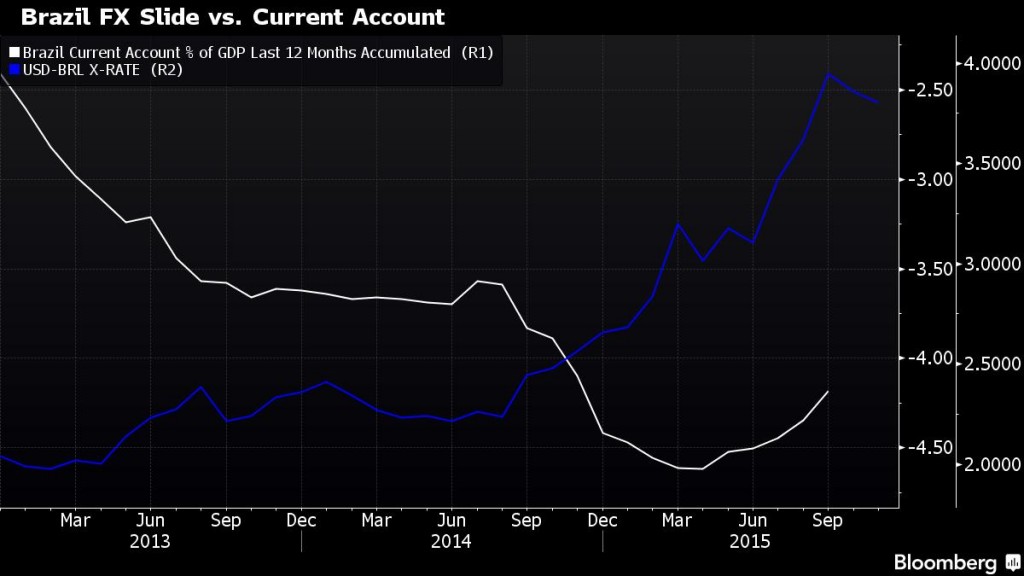 Semi-durable and non-durable goods rose 0.5 percent. Output of durable consumer goods plunged 5.3 percent. Of the 24 industries surveyed by the institute, production dropped in 15.
The MSCI index of industrial stocks, which includes plane maker Embraer, hit a 6 1/2-year low in late September. It has since pared some losses, even as business confidence as measured by the National Industry Confederation continues its slide.
In the World Bank's annual report on the ease of doing business released Oct. 27, Brazil dropped five spots to 116th among 189 nations, and sits below the Latin America and Caribbean regional average. The nation's score suffered the largest drops in getting credit, resolving insolvency, starting a business and registering property.