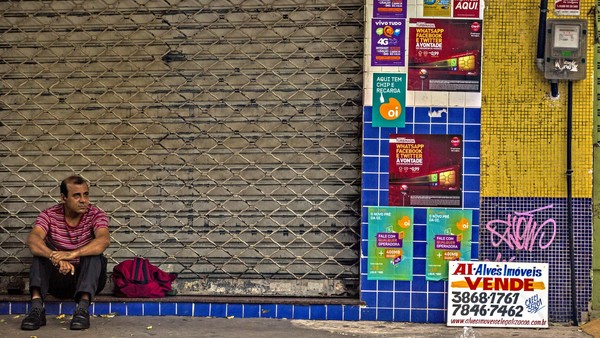 Brazil's economy shrank 3.8 per cent in 2015, putting what was once one of the world's fastest-growing large emerging markets on track to suffer its worst recession since official records began.
The big GDP contraction was the worst in 25 years, and comes as a perfect storm of collapsing investment, lower commodity prices and constrained government spending hits growth.*
"GDP in the fourth quarter suffered a contraction of 5.9 per cent compared with the same period a year earlier," Brazil's statistics agency, the IBGE, said. "All of the components of internal demand showed falls."
Latin America's largest economy was once a darling with investors as sound macroeconomic policy led to continuous growth, culminating in an Asia-like 7.6 per cent expansion in 2010.
The contraction in 2015 will put more pressure on the government of president Dilma Rousseff, who is already facing efforts to impeach her in congress and a far-reaching investigation into corruption at state-owned oil company Petrobras.
The slowdown is attributed by economists to policies by her left-leaning government and that of her predecessor, former president Luiz Inácio Lula da Silva, of intervening in industry while implementing price controls and encouraging aggressive lending by state banks.
Confidence collapsed, fuelling a rapid slowdown, with the economy expected to give back all of the growth it enjoyed in 2010 in just two years once the contraction in 2015 is combined with an expected 3 per cent fall this year.
Brazil cannot afford the luxury of not having economic growth– Raul Velloso, budget expert
Ms Rousseff has since tried to perform an about-face on the economy, appointing a hawkish finance minister, Joaquim Levy, last year to restore balance to an alarming shortfall in the government's finances.
But he resigned in December after repeated downgrades by rating agencies of Brazil's former investment credit grade rating.
Economists now worry that the government needs to move urgently to address its accounts, with tax revenues falling due to the recession while expenditure keeps rising thanks to an enormous federal salary and pension bill.
"Brazil cannot afford the luxury of not having economic growth," said Raul Velloso, a specialist on the budget.
Industry showed one of the biggest declines, down 6.2 per cent in 2015 against a year earlier, while agriculture was the one bright spot, up 1.8 per cent compared with a year earlier.
"The peak-to-trough fall in GDP currently stands at 7.2 per cent — the worst recession since the 1930s," Capital Economics economist Neil Shearing said.