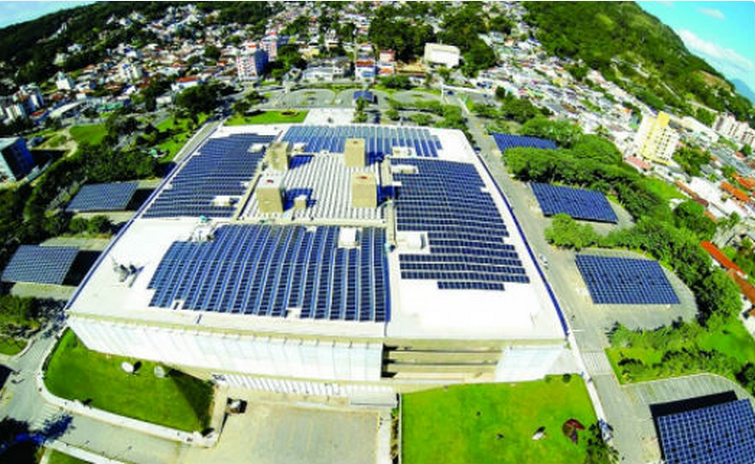 Brazil's renewable energy industry is poised for a setback this year as the slumping economy dries up credit, curbs power demand and threatens new transmission lines needed to connect projects to the grid.
Following years of growth that made Brazil the world's 10th biggest wind market, the industry is revising down the amount of new capacity expected in 2016, along with the number of new wind projects expected to win contracts at government auctions.
President Dilma Rousseff is facing issues including the Zika virus, an inflation rate that's climbed to 10.8 percent and a local currency that's down more 35 percent in the past year. Clean energy has been one of the few positive stories in Brazil, and the government has set ambitious growth targets to drive up generating capacity without boosting fossil-fuel pollution. Those goals may now be harder to reach, said Marcelo Girao, head of energy project finance at Itau BBA.
"There are clouds in renewable energy's path now," Girao said in an interview. "The sector is high on the list of the Brazilian government's priorities and it has some progress to show, yet things aren't looking so rosy now."
Government contracts for clean energy probably won't reach 2 gigawatts this year, according to Helena Chung, an analyst with Bloomberg New Energy Finance in Sao Paulo. That would show growth stabilizing over the past two years, and would be less than half the 4.6 gigawatts of new wind contracts in 2013.
New Energy Finance revised its wind-power forecast in February. About 3 gigawatts of capacity from projects already under development will be connected to the grid this year, 1 gigawatt less than the earlier estimate.
Wind power has boomed in Brazil, reaching 9 gigawatts of installed capacity last year, the most in Latin America and 10th worldwide. Total capacity in 2013 was a third of that, according to Abeeolica, the country's wind-power trade group.
The government is helping drive that growth, and set a goal last year of getting 23 percent of Brazil's energy from renewable sources by 2030 as part its effort to fight climate change. Power from solar, wind and biomass accounted for 9 percent of Brazil's total generation in 2014.
Brazil also pledgedin June to reduce carbon emissions by 37 percent by 2025 compared with 2005.
"I am concerned," said Chung from BNEF. "Brazil's government has denied giving more incentives for renewable energy in the same way it has been denying it for other industries. That has a lot to do with the economic crisis, and a slowdown in the energy sector can give a bad signal to the market."
Junk Ratings
Financing also will be a challenge after Moody's Investors Service cut Brazil's credit rating two levels last week, stripping the nation of its last investment-grade rating. Standard & Poor's and Fitch Ratings had already cut their ratings to junk levels as plunging prices for commodity exports and a historic corruption scandal drive the economy to its deepest contraction in more than a century.
"Money is more expensive and the credit bar is higher," said Itau's Girau. "Capital markets are restrictive. Our disbursements were growing last year, but I think we will go downhill now."
Brazil's government Energy Research Agency, known as EPE, is planning three power auctions for this year. It held seven in 2015, when Brazil faced a record drought that dried up the nation's most important reservoirs and cut hydroelectric generation.
"The problem now is declining demand for power as the economy contracts," said Mauricio Tolmasquim, the head of EPE, said by phone from Rio de Janeiro. "Distributors that buy energy in many auctions already have the capacity they need. In the next couple of auctions we will certainly see a low demand for power."
"It's hard to quantify the magnitude of Brazil's economic slow-down, and that generates an uncertain environment," Lucas Araripe, new-business director for the developer Casa dos Ventos Energias Renovaveis SA, said in a phone interview. "There is an adjustment in the short term that nobody really knows yet."
Another challenge is new transmission, which is needed to connect clean power projects to the grid. About 220 power-line projects were behind schedule as of December, about 60 percent of the total capacity under development, according to a document from Brazil's energy regulator Aneel. Difficulties getting environmental licenses caused the most delays, according to the document.
"There is no way to grow power generation without transmission lines on time," Girao said.
The government may be able to stem some the decline this year, through a reserve auction, according to Tolmasquim. In this type of auction, the government buys capacity to ensure the stability of the energy system. EPE is planning one, though no date has been set.
"The renewable energy sector in Brazil is not immune to the crisis, but it is resilient," said Tolmasquim. "It is still one of the sectors that are less harmed by the crisis."