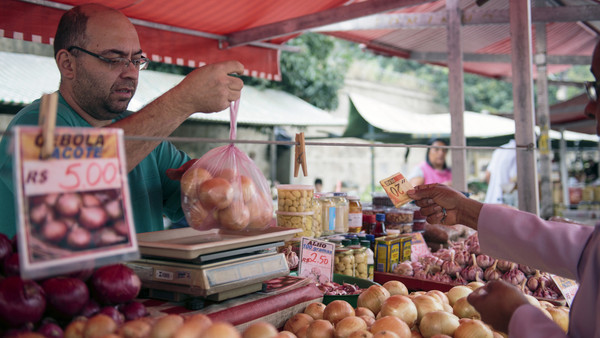 Brazil's central bank has kept interest rates on hold for the fifth time in six months as the country braces itself for data about the depth of its recession last year.
Copom, the bank's monetary policy committee, kept the benchmark Selic rate at 14.25 per cent following a split vote, as expected by analysts. Two of the eight committee members voted for a 50 basis-point rise.
The bank pointed to uncertainties in Brazil but mainly to those abroad, in an almost identical statement to that published after the previous meeting.
Latin America's largest economy is facing a combination of double-digit inflation and the worst recession in more than a century, leaving the central bank with few options.
Wednesday's decision came the night before Brazil's IBGE national statistics agency was due to publish data showing how much the country's gross domestic product contracted in 2015.
According to a Reuters survey, GDP probably fell 3.8 per cent last year. It would be the biggest yearly contraction since 1981, according to World Bank figures.
Analysts surveyed by the central bank expect the country's economy to shrinkanother 3.45 per cent this year, making the two-year period Brazil's deepest recession since records began in 1901.
However, prices have risen sharply, bringing annual inflation to just under 11 per cent, according to the latest data.
"The inflation outlook remains very challenging and the authorities are finding it increasingly difficult to control inflation and anchor expectations," said Alberto Ramos at Goldman Sachs.
. . . the authorities are finding it increasingly difficult to control inflation and anchor expectations– Alberto Ramos, Goldman Sachs
The recent depreciation of the Brazilian real against the dollar has been partly to blame, making imports more expensive.
Analysts said they expect inflation to peak at around the end of the first quarter, allowing the central bank to consider lowering interest rates later in the year to the relief of Brazilian businesses.
"While food inflation looks set to rise further over the coming months, overall inflation looks likely to peak around the end of the first quarter or the start of the second quarter and fall back, albeit gradually," said Neil Shearing, economist at Capital Economics.
"All this could mean that by the end of this year Copom is in a position to consider lowering the Selic," he said.