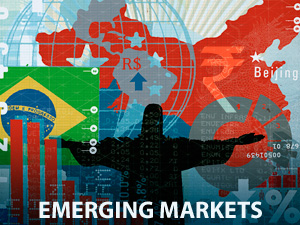 The real rose as a rally in emerging-market currencies outweighed concern that newly appointed Finance Minister Nelson Barbosa won't push to rein in Brazil's swelling budget deficit.
The real rose 0.8 percent to 3.9780 per dollar at 9:55 a.m in Sao Paulo after weakening past 4 per dollar on Monday. A gauge of emerging markets currencies rose 0.2 percent on the prospect of more economic stimulus from China. One-month implied volatility in the real fell to 22.9 percent, still the highest among 16 major currencies tracked by Bloomberg.
The gains in the currency may be short lived as Barbosa is scheduled to talk with foreign journalists as he tries to convince investors that Brazil won't adopt a looser fiscal policy. On Monday, the real extended losses after the appointed minister ended a conference call with investors without providing a specific road map for restoring Brazil's fiscal health.
"Emerging-market currencies are stronger worldwide on the heel of news that China may boost fiscal and monetary stimulus to sustain growth," said Joao Paulo de Gracia Correa, a foreign-exchange director at SLW Corretora de Valores in Curitiba, Brazil. "In Brazil, players are not willing to take risks to wait and see the new finance minister comply with promises to seek the balance of public accounts, they expect more than just a diplomatic speech."
China's leaders signaled they will take further steps to support growth, including widening the fiscal deficit and stimulating the housing market, to put a floor under the economy's slowdown. Monetary policy must be more "flexible" and fiscal policy more "forceful" as leaders create "appropriate monetary conditions for structural reforms," according to statements released at the end of the government's Central Economic Work Conference by the official Xinhua News Agency on Monday. China is Brazil's biggest trading partner.
Barbosa is inheriting a deepening economic crisis marred by political turmoil, falling commodity prices and investor skepticism.
Swap rates on the contract maturing in January 2017, a gauge of expectations for changes in Brazil's interest rates, dropped 0.05 percentage point to 15.95 percent.