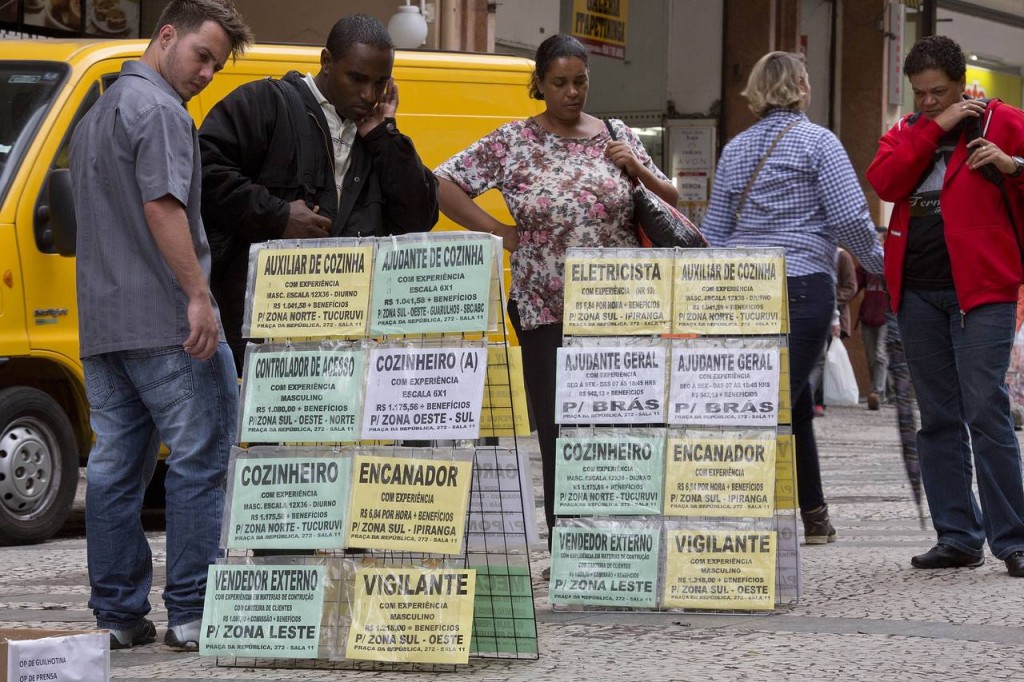 RIO DE JANEIRO—Brazil has entered its deepest economic downturn since the global financial meltdown of 2008-09, official data confirmed Friday.
But unlike the previous crisis, economists say the current problems were caused by errant economic policy at home and that the road to recovery will be a long one.
Brazil's gross domestic product shrank 1.9% between April and June from the previous three months in seasonally adjusted terms, the Brazilian Institute of Geography and Statistics said on Friday. It was the second consecutive quarter of decline after the economy shrank a revised 0.7% in January-March, meeting the criteria for what most economists consider a recession.
For a country that once foresaw itself ascending into the ranks of the world's five largest economies, the downturn represents a troubling setback. Per-capita incomes have been on the decline since 2014, after rising for the better part of a decade of heady government spending. Souring investor appetite for local assets has caused Brazil's currency, the real, to lose a quarter of its value so far this year.
A contraction was expected for the second quarter. Brazil's industrial production, stagnant for years, fell sharply in the first half of 2015, as demand for cars and other durable goods dried up. The construction sector has been paralyzed by a corruption investigation that has ensnared its biggest players. Retail sales have retreated, as consumer confidence has fallen to record lows, prompting the biggest quarterly drop in private consumption since 2001.
But most forecasters had expected the latest quarterly downturn to be more moderate. Bill Adams, a senior international economist at Pittsburgh-based PNC Financial Services Group, said the April-June result was "astoundingly bad." BNP Paribas' Marcelo Carvalho quipped that Brazil's second-quarter domestic product was "gross."
What's less clear is when the bleeding will stop. Low commodity prices are hammering Brazilian exports of iron ore and other raw materials. The sliding home currency has sent inflation soaring, forcing the central bank to raise its benchmark interest rate, the Selic, to 14.25%, one of the highest benchmark rates in the world. To combat falling revenue and rising debt, the government has raised taxes and cut some spending, steepening the economy's decline.
"It's more like death from a thousand cuts than a big bubble in real estate or something," said Pedro Barbosa, a partner at Rio de Janeiro-based hedge fund STK Capital. "But now we have a long recession coming our way."
Experts say rising commodity prices during much of the last decade allowed Brazilian authorities to get away with what they characterize as shortsighted policy and fiscal profligacy. Under pressure to raise living standards in one of the world's most economically inequitable countries, policy makers tried to stimulate consumption by dishing out consumer loans, reducing interest rates and cutting taxes on goods like cars and appliances.
"The vast majority of Brazil's problems were created at home, with the interventionist policy, the growth of the state, the lack of reform," said Edwin Gutierrez, who manages emerging-market debt at $483 billion Aberdeen Asset Management.
Many economists contend that largess came at the expense of investment, in which Brazil badly trails other large developing countries. As supply struggled to keep up with red-hot demand in recent years, inflation constantly hovered near the 6.5% upper limit of the central bank's target range.