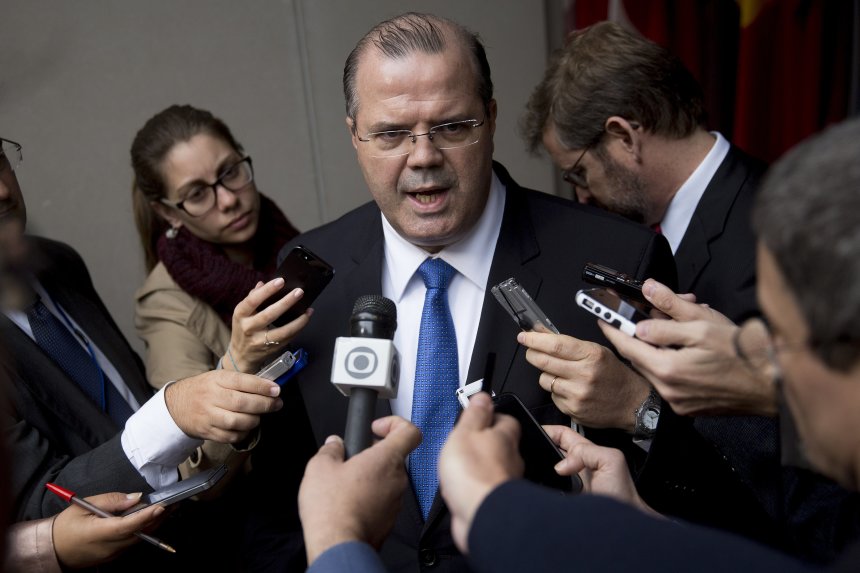 BRASÍLIA—Brazil's central bank on Wednesday left its benchmark Selic interest rate unchanged at 14.25%, a move telegraphed by bank President Alexandre Tombini on Tuesday in a note that some analysts said raised questions about the monetary authority's independence.
The monetary policy committee voted 6-2 to keep the rate unchanged. Members Tony Volpon and Sidnei Corrêa Marques voted to raise the Selic by a half point to 14.75%, as they did at the last meeting in November.
Before the bank put the note on its website, most economists had been expecting a half-point increase in the Selic, partly because consumer prices continue to rise quickly and partly to dispel any suspicions that it was caving in to pressure from members of President Dilma Rousseff's party who have called for rates to stay unchanged.
Some analysts say the bank used the IMF outlook as a reason to take a softer stance.
"This shows that the hawkish tone they adopted since November either has changed or was never true," said Joao Pedro Ribeiro, Latin America strategist at Nomura in New York. With the dovish decision, "the bank risks losing credibility because its communication changed too quickly."
The central bank earlier Wednesday declined to comment. Both Ms. Rousseff and her finance minister, Nelson Barbosa, have said that the central bank has autonomy to make monetary policy.
The bank's Tuesday morning note, published after the International Monetary Fund slashed its economic forecasts for Brazil for 2016 and 2017, said Mr. Tombini viewed the lower projections as "significant" and that the monetary policy committee would evaluate all "relevant and available" information when it made its decision.
The statement announcing the rate decision started out with the same phrasing as the previous statement in November.
"Evaluating the macroeconomic scenario and the outlook for inflation," the statement began, then adding "and the current balance of risks of the domestic and, mainly, external uncertainties," the committee decided to leave rates unchanged.
The monetary authority is walking a thin line between fighting inflation, keeping a feeble economy afloat and restoring its credibility on keeping prices in check. The bank has left the Selic unchanged since July 2015.
Since then, both inflation and inflation forecasts have risen, challenging a monetary tightening cycle that began in 2013, when borrowing costs were at 7.25%.
Annual inflation is at 10.7% and forecast to end this year at 7%, according to economists polled by the central bank. The bank targets 4.5%, with a tolerance range of two percentage points in either direction.
The fact that the forecasts are higher is an indication that markets don't believe the bank will deliver on its promises, as it hasn't in the past few years, analysts say.
The IMF forecast on Tuesday that Brazil's gross domestic product will contract 3.5% this year, compared with its previous projection for a 1% contraction. The IMF revised its forecast for 2017 to zero GDP growth from a 2.3% increase.
The weak economy is used as an argument by unions and politicians who want lower borrowing costs to revive growth.
A major labor union staged a protest against high rates in front of the bank's São Paulo office on Tuesday, while members of the ruling Workers' Party, or PT, have been vocal against tightening.
"The central bank has been raising rates for 33 months and inflation only got higher," said economist Marcio Porchmann, chairman of PT economics think tank Perseu Abramo Foundation. The bank's policy
"isn't adequate to fight inflation," he said.
It is unclear whether Ms. Rousseff, who is a PT member but governs with a coalition that includes other parties, will heed the think tank's advice.
But she is facing an impeachment process in Congress, and analysts fear that embracing the party's thinking could be key to her political survival.
Moreover, the central bank is part of the government, increasing the perception that it could give in to politics. A number of analysts have been saying that raising borrowing costs to fight inflation is a strategy that has run its course in Brazil.
They argue that a steep increase in government-controlled prices and a 30% currency devaluation, two main sources of inflation in 2015, are unlikely to happen again this year, while an economic contraction forecast at 3.7% last year and 3% in 2016 is a strong enough reason to ease up on interest-rate increases.
"I don't think [higher rates are] going to help inflation, really. We
basically have reached a point where monetary policy won't be able to restrain inflationary pressures in Brazil," said Daniel Tenengauzer, global foreign-exchange strategist for RBC Capital Markets.
But that economic argument was overwhelmed by the perception that the central bank blinked. "It isn't a debate about macro policies anymore; now it's a debate about credibility, the independence of the central bank," he said.