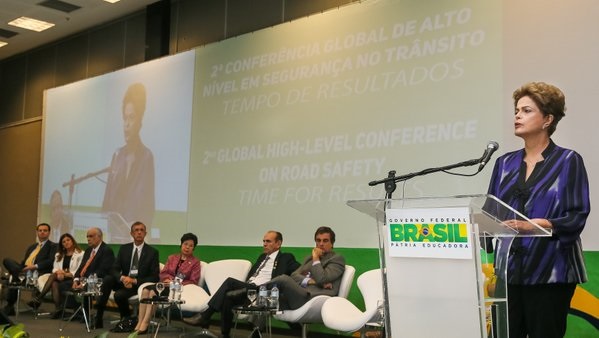 Brazil's Supreme Court suspended action by a special congressional commission weighing impeachment proceedings against embattled President Dilma Rousseff.
The move freezes the impeachment process until December 16 when the court convenes for a full session.
This was after a key ally, Vice President Michel Temer, announced his diminished support for the President through a letter that criticised her "absolute lack of confidence" in him.
Rousseff's opponents have won control of the congressional commission examining her case. After stormy scenes at a voting process on Tuesday, those favoring impeachment took 39 of 65 seats on the newly formed commission.
Meanwhile, on Tuesday 16 of the country's 27 state governors declared that the impeachment case lacks constitutional "foundation."
Rousseff on Monday asked the Congress to cancel its traditional winter recess to deal with the impeachment proceedings against her.
The recess, which runs from mid-December to Feb. 2, should be called off in January, Rousseff told the press.
"We are living in a situation of political and economic crisis. I feel it is important for Congress to return without letting the country wait until February," she said.
Last week, Eduardo Cunha, president of the Chamber of Deputies, the lower house of the National Congress, authorized impeachment proceedings against President Dilma Rousseff for her alleged involvement in a multi-billion dollar corruption scandal that has shaken her party.
The move came shortly after the ruling Workers' Party (PT) faction in the lower house announced it would vote in favor of an ethics committee trial against Cunha for illicit enrichment.
Cunha of the Brazilian Democratic Movement Party (PMDB), has been accused of squirreling away millions overseas in secret Swiss bank accounts.
A corruption scandal at Brazil's state oil giant Petrobras, has implicated politicians in Rousseff's party, although not the president herself.
Brazil's state oil giant Petrobras estimates it paid out some 6 billion reals ($1.6 billion) in illegal "commissions" as part of a corruption scheme that operated for years.