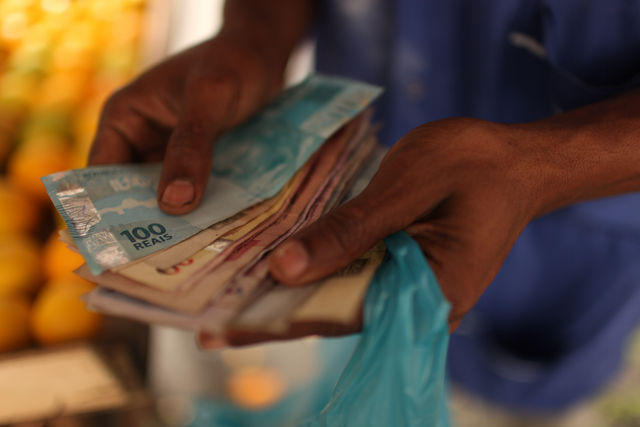 BRASILIA, June 21 Brazil's annual inflation rate slowed more than expected in mid-June and fell below 9 percent for the first time in a year, renewing hopes of interest rate cuts amid a harsh recession.
Consumer prices, as measured by the IPCA-15 index, rose 8.98 percent in the 12 months through mid-June, down from 9.62 percent in mid-May, statistics agency IBGE said on Tuesday.
Prices rose 0.40 percent from mid-May to mid-June, below the median forecast of 0.52 percent in a Reuters poll and easing from 0.86 in the previous month. Food inflation slowed sharply from May and transportation prices fell, mostly due to a 6-percent drop in the cost of ethanol fuel. Higher water and sewage utility rates spurred a rise in housing costs.
Following the release of the inflation data, yields on interest rate futures fell as traders perceived a greater prospect of interest rate cuts by the central bank in coming months.
The official inflation target is Brazil is 4.5 percent, a goal last achieved in August 2010. The central bank has kept its benchmark interest rate at its highest in nearly 10 years, at 14.25 percent, in a bid to slow the 2016 inflation rate at least to the top end of its tolerance range, at 6.5 percent.
Low investment rates, hefty government spending and a surge in subsidized credit have fueled price increases in Latin America's largest economy, even as it went through its worst recession in generations.
                                               Mid-May  Mid-June
 – Food and beverages            1.03      0.35
 – Housing                                 0.99      1.13
 – Household articles              0.55      0.57
 – Apparel                                  0.72      0.42
 – Transport                              -0.30     -0.69
 – Health and personal care   2.54      1.03
 – Personal expenses              0.81      0.89
 – Education                             0.29      0.06
 – Communication                 1.26      0.01
 – IPCA-15                               0.86      0.40