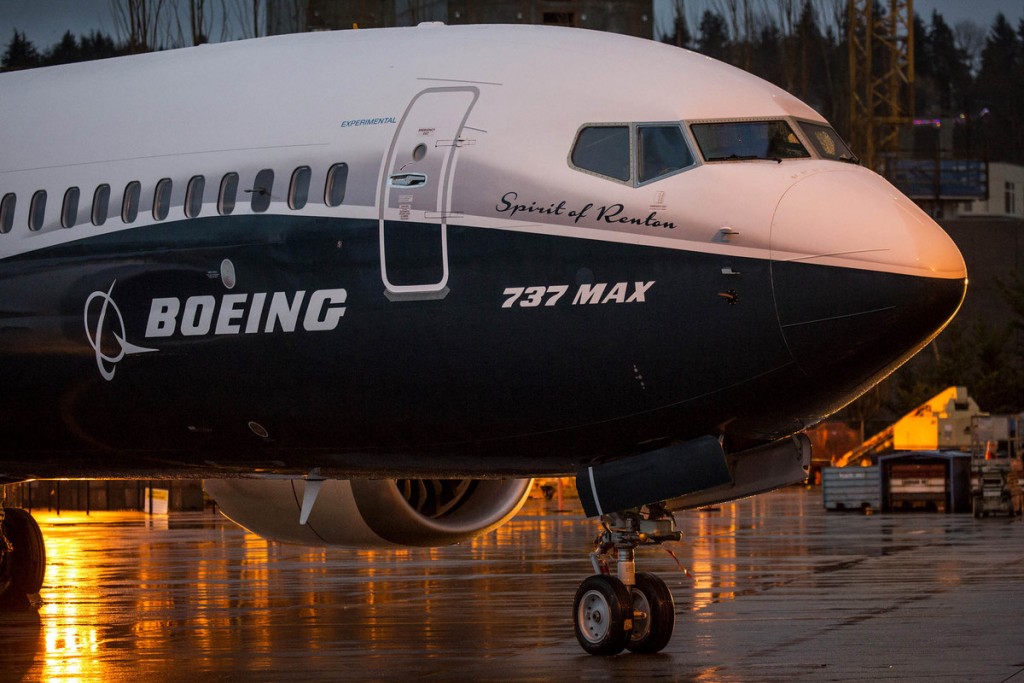 Boeing Co. landed a $10 billion order from China Southern Airlines Co., Asia's largest carrier by passenger volume, after agreeing to buy back some older-vintage jets, engines and other materials.
China Southern and Xiamen Airlines, a subsidiary, are purchasing 110 current-model 737 jetliners and upgraded Max variants, the companies said in statements Thursday. The 80 planes for Guangzhou-based China Southern are new orders, while the 30 Max models headed for Xiamen were previously logged as unidentified orders.
The deal is part of a typical late-year flurry as Boeing races to burnish its annual sales total and catch up to Airbus Group SE, which has netted more than 1,000 orders for 2015. The planemakers' rivalry is especially heated in China, which is poised to become the biggest air travel market.
If finalized, the China Southern purchase along with a $2.04 billion Delta Air Lines Inc. deal would boost Boeing's order total to 678 for the year. That would narrow the gap between annual sales and the 755 to 760 planes expected to roll out of Chicago-based Boeing's factories this year. Boeing executives had said they expected the measure, known as book to bill, to be close to 1.
China Southern is ordering 30 current Boeing 737s and 50 of the upgraded 737 Max variant, valued at $7.24 billion at list prices, the company said in a statement Thursday. The prices are before the discounts that are typical in the industry. The Xiamen unit agreed to buy 30 737 MAX planes for a total of $2.88 billion before discounts, China Southern said in a separate exchange filing.
"China Southern's commitment is a solid endorsement of the popularity of the Next-Generation 737 and 737 MAX," Ihssane Mounir, Boeing senior vice president for Northeast Asia sales, said in an e-mailed statement. China Southern said the order was in line with its strategy under the country's 13th five-year plan, which takes effect in 2016.
Travel Growth
Asian air travel growth is lifting orders for Boeing and Airbus, with China forecast to surpass the U.S. as the world's largest aircraft market. The country's economic expansion is making air travel affordable to more people, prompting carriers such as China Southern and Air China Ltd. to expand their fleets.
Thursday's deal comes almost three months after Chinese President Xi Jinping signed an order for 300 jets valued at $38 billion on a state visit to the U.S., without disclosing the buyers. Boeing also agreed to build a 737 completion center in China, in a partnership with Commercial Aircraft Corp. of China, known as Comac. It was not immediately clear whether Thursday's announcement is part of that agreement.
China Southern is also selling 16 narrow-body planes back to Boeing, along with 13 engines and other aerospace materials, for $104 million over three years, starting in 2016. Boeing will pay costs involved, which are expected to total $1.9 million, China Southern said.
China Southern expects to take delivery of the current-model 737s between 2017 and 2018, and the MAX jets from 2017 to 2021. Xiamen will take delivery of its planes between 2018 and 2021.
China's total aircraft fleet will surge to 7,210 by 2034 from 2,570 last year, Boeing said in August. The Chicago-based company forecast China will need 6,330 new planes valued at $950 billion in the next two decades.
Before it's here, it's on the Bloomberg Terminal.