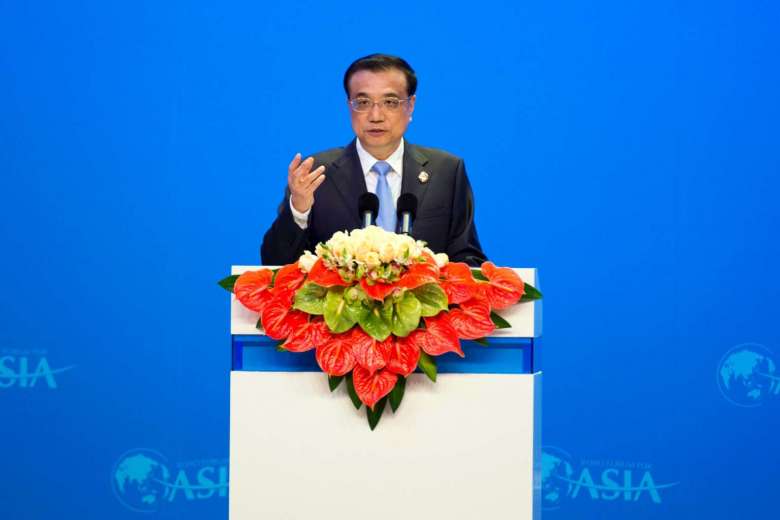 China will fulfil its responsibility as a major economic power, even though its own economy is undergoing challenging reforms and slower growth, Premier Li Keqiang said.
He pledged not to devalue the yuan or interfere too much in the economy, acknowledging international concern over China's actions, which have caused ripples globally.
Mr Li was speaking to global political and business leaders at the Boao Forum for Asia (BFA) yesterday.
His move to inject calm comes after a turbulent year for China.
Global markets were jolted and other Asian currencies fell in tandem when China allowed the yuan to devalue by 2 per cent last August, its largest drop in two decades. This followed a Chinese stock market rout that began in June.
Analysts have said this was done to boost China's flagging growth, but Mr Li said yesterday that the country "will definitely not use devaluation to spur exports", given that it was not in line with its own long-term goals.
"Devaluation will not lead to the production of high-quality products or promote competition and innovation," he said. "We want to push out to the world increasingly better mid- to high-end products."
These are part of China's economic reforms, which the government is stressing this year. Besides moving up the value chain, China wants to cut overcapacity and manage its debt levels.
Amid criticism that the Chinese authorities had meddled too much in the economy and markets, Mr Li pledged not to obsess about growth. He pointed out a growth target range was set for the first time in 20 years to give the government flexibility to manage fluctuations.
"Fluctuations are unavoidable and we will not violate economic rules or market operations due to small fluctuations," he said. The government will only step in if growth "slips out of a reasonable range", he said at the forum, hyped as Asia's answer to the World Economic Forum in Davos, Switzerland.
Allaying fears about China's slowing growth, Mr Li said it was important to consider the large base of the economy. He added that employment was stable and consumption growing at double-digit rates.
Turning to the region, he called for renewed efforts to boost integrated regional development, and urged the parties involved to wrap up negotiations for the China-led Regional Comprehensive Economic Partnership (RCEP) by the end of this year.
The RCEP is a proposed free trade agreement involving the 10- member Asean, Australia, China, India, Japan, South Korea and New Zealand. It is seen as a counter to the United States-led Trans-Pacific Partnership.
Mr Li added that Asia needed to tap on its abundant human resources to unleash its potential.
"This is our strongest advantage," he said. "If there is innovation, there will be a new future for Asia."